Adrian Gilbert Scott - Architect
1882-1963
My name is Margaret Mary Powell but I was born Gilbert Scott and the family called me Peggy. I was born in 1923 at 9 Well Walk, Hampstead. My father was Adrian Gilbert Scott of the Gilbert Scott architectural dynasty. Well yes I was born in Hampstead because after the War my father was an architect. And he resumed his Practice in London and we lived at 9 Well Walk. And his father before him had lived at 23 Church Row, and his father before him, my great grandfather, had been at Admiral's Lodge. My great grandfather was Sir George Gilbert Scott, the eminent architect. My grandfather, my father and my mother are all buried in the same graveyard at the end of Church Row. I was certainly aware that my father was an architect and I knew what architecture was because whenever he was at home, whatever we did, we'd be round looking at buildings, particularly half built buildings, where he positively encouraged us to explore them. Running up and down ladders we were little spies. We'd report back if we saw a wall that was out of true, we would report back. Also on holiday we always went round churches. We kids, our big idea was to get up and ring the bell. This my father had planted because that brought the vicar out and he could then talk about the history of the building to the vicar while we kids swarmed round and explored the building in peace. So very aware of architecture being a very important part of the family. He was the son of Sir George Gilbert Scott, brother of John Oldrid Scott and father of Sir Giles Gilbert Scott and Adrian Gilbert Scott, all also architects. He lived at 26 Church Row. Scott Jr occupied a key role in the development of English architecture between 1870 and the First World War. But he was also an alcoholic who, at the age of 45, was certified insane. He is one of England's most unfairly forgotten architects, his work now eclipsed by that of his father and son. His father was Sir George Gilbert Scott, whose most celebrated buildings include the Midland Grand Hotel at St Pancras station in London and the Albert Memorial in Kensington Gardens. Scott Jnr. went to Eton and Cambridge. He set up his own architectural practice in 1863. In the 1870s he designed a number of churches, the Vicarage of St Agnes Kennington and All Hallows Southwark plus a number in Yorkshire and Somerset. Both the London churches, among his finest work, were damaged in the Blitz and later demolished. He was also a restorer of churches but unlike his father he was keen to keep churches in their original condition rather than over-restore them. A fine example of his work in this respect is Pembroke Chapel, Cambridge. As well as an architect, he was a fine designer of furniture, wallpapers, carpets, metalwork and needlework. In 1874 he helped to set up Watts & Co a business not dissimilar to that of Morris & Co set up by William Morris to which they were in friendly competition. In 1880 he converted to Roman Catholicism from Anglo-Catholicism. This new faith brought him a wealthy client: Henry Fitzalan-Howard, 15th Duke of Norfolk. The Duke commissioned Scott Jnr. to build a church in Norwich. However what he wanted was a church in the style of Scott Junior's father, not his son's simpler and less ornate style. Like all architects, then and now, Scott Jr found it hard to turn a job down. So he built St John the Baptist (raised to cathedral status in 1976) as if his father's hand was guiding him. Unfortunately Scott Jnr. started drinking heavily at this time. Scott spent time in Rouen with a mistress in between admissions to St Andrew's Hospital Northampton, and Bethlem Royal Hospital, South London in July 1883. Scott Jnr. attempted to set the asylum on fire, brandished knives and smoked pieces of cheese in his pipe. In 1884 he was certified insane. Three months after his admission to Bethlem, Scott escaped from the hospital and fled the country, but shortly afterwards returned to England and back to hospital, though not this time to Bethlem. He spent the next ten years in and out of hospital, but continued to 'devote his best energies' to his architectural work, his attacks having 'not affected his business capacity at all', as his brother John wrote to one worried client. Scott died of cirrhosis of the liver and heart disease at the age of 67, while resident at the Midland Grand Hotel at St Pancras Station (ironically another of his father's best known works). Scott Jnr's son, Giles Gilbert Scott, went on to design Liverpool Cathedral, Battersea Power Station, Cambridge University Library and William Booth College in Denmark Hill, but is best remembered for having designed the iconic red London telephone box. Another son, Adrian, also an architect, is buried with his father. Lushington Temple Moore, a pupil of Scott who designed the Hampstead War Memorial and made changes to the church, is also buried at Saint-John-at-Hampstead.

Speaker: Margaret Mary Powell, daughter
---
Alfred R Orage - Journalist and spiritual teacher

1873-1934
Yorkshire-born Orage held a central position in early twentieth-century intellectual and cultural circles in Britain
Yorkshire-born Orage held a central position in early twentieth-century intellectual and cultural circles in Britain, particularly as editor of the influential New Age weekly journal. Initially trained as a teacher, and working for the Leeds School Board, Orage became increasingly interested in socialist politics. In 1900, he met Holbrook Jackson and they founded the Leeds Art Club promoting programmes of talks, debates and events, encompassing a broad range of topics including Plato, Nietzsche, Theosophy and Fabian Socialism. In 1906, he moved to London to pursue a career in journalism.
Supported by George Bernard Shaw, Orage and Holbrook Jackson bought and edited the journal 'New Age' with Orage becoming the sole editor in 1909. India and Eastern culture loomed large in Orage's imagination, although he never actually visited there. The magazine played a central role in the debates over Modernism, and in the social and political issues of the day
After WW1, he became a disciple of the Russian spiritual teacher George Gurdjieff. In October 1922 Orage left his editorial position at the New Age, and spent a year at Gurdjieff's institute, Le Prieuré, at Fontainebleau. He then spent a considerable amount of time in America lecturing and writing about philosophy and religion where he married his second wife, Jessie Dwight who was co-owner of the Sunwise Turn Bookshop in New York.
Orage returned to England in 1930, setting up the New English Weekly in 1932, and again becoming the editor of a journal championing avant-garde writing, thought, art and political theory. He died suddenly in 1934. His gravestone is carved by artist Eric Gill. It depicts an 'enneagram', a nine-pointed figure inscribed within a circle, which Orage called 'a picture of man', and the words from the Hindu scripture, the Bhagavad Gita:
Thou grievest for those that should not be grieved for
The wise grieve neither for the living nor for the dead
Never at any time was I not nor thou nor these princes of men
Nor shall we ever cease to be hereafter
The unreal has no being
The real never ceaseth to be
---
Anne Thackeray Ritchie - Writer

1837-1919
Anne (Anny) Thackeray Ritchie was the eldest daughter of the novelist William Makepeace Thackeray who became a significant intellectual figure of her time
The faces and the forms of Yore Again recall, again recast; Let your fine fingers raise once more The curtains of the quite past;
And then, beside the English fires That sing and sparkled long ago, The sires of our departed sires The mothers of our mothers show.
Robert Louis Stevenson to Anne Thackeray
Anne (Anny) Thackeray Ritchie was the eldest daughter of the novelist William Makepeace Thackeray who became a significant intellectual figure of her time, and well-acquainted with some of the great figures of British literature.
She published five novels, and modernised classical fairy tales, such as Cinderella and Sleeping Beauty, setting them in the Victorian time, and replacing magical elements for realistic ones. In her fiction, Anny provided a rather mild picture of Victorian domestic life, but she did not avoid showing the restricted condition of women in Victorian society.
She was brought up in both England and France, and was her father's closest companion until his death. Over the course of her life, Annie wrote several diaries, journals and masses of letters in which she described, among other things, her unconventional upbringing and relations with her famous father. In 1875, after her sister Minny's death at just thirty-five, from complications related to the premature birth of her second child, Annie helped her sister's widowed husband in the upbringing of his first child. In 1877, Annie married her cousin, Richmond Ritchie an undergraduate at Cambridge, who was 17 years her junior. They had two children; Hester, born in 1878, and William, born in 1883.
She spent long periods at the Isle of Wight Home of the photographer Julia Margaret Cameron who was a friend and neighbour of Poet Laureate, Alfred Tennyson whose son, Lionel, was best man at Annie's wedding.
The Thackeray's resided in a succession of London houses, mainly located in Kensington. She never lived in Hampstead but had numerous connections with the area. Her father's friend and publisher (who, in turn, became Anny's publisher) George Smith Jnr., son of the founder of Smith, Elder & Co., lived in Oak Hill Lodge between 1863 and 1872.
When her husband Richmond died unexpectedly at the age of fifty eight in 1912, he chose to be buried in Hampstead Churchyard to be near his friend George Du Maurier. And when Anny died at the age of 82 in 1919 she likewise elected to be buried at Richmond's side at Hampstead.
After her death Virginia Woolf wrote of her step-aunt:
'She will be the un-acknowledged source of much that remains in men's minds about the Victorian age. She will be the transparent medium through which we behold the dead. We shall see them lit up by her tender and radiant glow. Above all and forever she will be the companion and interpreter of her father, whose spirit she has made to walk among us not only because she wrote of him but because even more wonderfully she lived in him'
Text by Christine Pullen
---
Anton Walbrook - Actor

1896-1967
He was born Adolf Anton Wilhelm Wohlbrück in Vienna in1896. He came from several generations of actors...
Anton Walbrook. He was born Adolf Anton Wilhelm Wohlbrück in Vienna in 1896. He came from several generations of actors going back about three centuries but he didn't actually know about this until later in life. His father ran off and joined the circus and became a well known clown. His mother was a Jewish lady from Vienna, Gisella Cohen. At the age of 15 he began performing on stage as a teenager. He was quite tall, blue eyed. Quite a very handsome and charming appearance and quite charismatic quality to his acting. He tended to play comedy roles a lot in Germany, a lot of light comedy, melodramatic, romantic light dramas and later on moved towards serious roles. He became extremely popular in due course. He did two or three early silent films, one possibly as early as 1915.
By the 1930s obviously the sound film had come out and Walbrook made his name. He became extremely popular as a matinee idol. He made several more films in the 1930s. After he moved to England he was very much put forward as the romantic dashing, foreign, exotic hero. Being half Jewish, homosexual and also a very creative artistic individual. He seems to have been fairly reserved about his character throughout his life. Whether that is cause or effect. It maybe to do with that he felt he had to hide his homosexuality - conceal it. And that gave rise to reserved aloofness about his character. But he did remain very anti-Nazi. It was quite apparent in his films. In Colonel Blimp he distances himself quite clearly from the Nazis and again the 49th Parallel he plays a Hutterite, peaceful German farmer living in Canada. In that sense he can be German and fairly anti-Nazi, which of course Wallbrook was. He learnt English in Hollywood. He flew back to England and came to London. He had a flat in Chelsea originally in 1937. And Herbert Willcox quite keen to make a film about Queen Victoria's life. He thought Walbrook looked very much like Prince Albert. And so he was cast as Albert opposite Anna Neagle's Victoria. It was while in Hollywood he changed his name from Adolf Wohlbrück to Anton Walbrook. But he felt Adolf Wohlbrück was too hard a name for English speaking audiences. And of course the name Adolf was not very popular in 1937. And as War grew on it would not have been a good name for a German to have in England who was seeking British citizenship.
Well as you know there was a very strong community here of émigrés round about Hampstead. People like Pressburger and Korda, both of Hungarian background lived nearby here. He had some contact with them who were living in 69 Frognal. Pressburger had quite a habit of employing other émigré actors, Conrad Veidt and people. So there was a certain tradition of émigré, German speaking actors working in the film industry here. Certainly for English audiences his best known films were the four he made for Powell and Pressburger. They were The 49th Parallel, The life and Death of Colonel Blimp, The Red Shoes and Oh Rosalinda . And those are still watched quite frequently. It was during a theatre performance of Noel Coward's Song at Twilight in Munich in 1967 he had a heart attack on stage, collapsed and spent several months trying to convalesce then died later on the edge of Lake Bavaria. According to wishes expressed in his Will he wanted to be buried back here in England, in Hampstead. He left all his money, his entire Estate, which was less than £10,000, to Eugene Edwards, who had been a great friend for many years. And who of course is buried with him.

Speaker: James Downes, The Bill Douglas Centre, University of Exeter
---
Arthur Llewelyn Davies & Lost Boys - Barrister

1863-1907
Married Sylvia (1866-1910), second daughter of George du Maurier. Their 3 eldest sons met J M Barrie in Hyde Park in 1897, and inspired his Peter Pan (1903). When their parents died tragically young, Barrie became the guardian of all 5 boys
Married Sylvia (1866-1910), second daughter of George du Maurier.
Their 3 eldest sons, George, John and Peter, met J M Barrie in Hyde Park in 1897, and inspired his Peter Pan (1903). Following the deaths of Arthur and Sylvia, J M Barrie became the guardian of all five Llewelyn Davies boys.
Arthur and Sylvia
Arthur first met Sylvia du Maurier at a dinner party in 1889. Arthur and Sylvia made a spectacularly handsome couple, although their families had virtually nothing in common. In contrast to the Spartan austerity of the Llewelyn Davies family, the du Mauriers epitomized the gaiety and bohemian frivolity of the 'nineties. They eventually married on August 15th, 1892.
Meeting J M Barrie in Kensington Gardens
Sylvia had a talent for dressmaking, and using an ancient judicial robe of red velvet belonging to Arthur's grandfather, she transformed it into two bright red tam-o'-shanters, and thus arrayed her two eldest sons George and Jack who soon became a distinctive feature of Kensington Gardens. They caught Barrie's attention, who introduced himself to the family, and soon he started seeing more of George and Jack, both at home and on their daily walks in Kensington Gardens. He became known affectionately by the boys as 'Uncle Jim'.
The Origins of 'Peter Pan'
Barrie's friendship with George blossomed in his notebooks and was later elaborated in 'The Little White Bird', in which George is disguised as 'David'. The book expresses his profound yearnings for fatherhood ' or perhaps, motherhood. Disguising himself as 'Captain W', a writer given to long walks in Kensington Gardens with his St. Bernard dog, Porthos (probably in honour of George du Maurier's dog Chang, later immortalized as Nana in Peter Pan), and includes 'Mary, David's mother', closely modelled on Sylvia.
Peter Pan, linked with George's baby brother Peter because 'all children were birds once' and who in fantasy would escape and fly back to Kensington Gardens, seems to have originated from the island of the Serpentine where Barrie and the young Llewelyn Davies boys would play endless games together. These adventures later took place at Black Lake Cottage, Barrie's holiday retreat, a simple house close to the lake set in a pine forest, where the Llewelyn Davies family came over three summers in the early 1900s. They became known as the Castaway games.
'Peter Pan' was first performed in December 1904 at the Duke of York's Theatre, St. Martin's Lane, with Sylvia's younger brother Gerald du Maurier playing both Mr. Darling and Captain Hook. In his Dedication to the first published text of 'Peter Pan', Barrie discussed the Castaway games at Black Lake Cottage as the play's inspiration, which is addressed personally to the Llewelyn Davies boys.
Excerpts from 'J M Barrie and the Lost Boys' by Andrew Birkin, 1979
---
Arthur Waugh - Publisher

1866-1943
Arthur Waugh was the father of the writer's Alec and Evelyn Waugh...
Arthur Waugh was the father of the writer's Alec and Evelyn Waugh. The family home was at 11 Hillfield Road , NW6 from 1878 and 1907, and then 145 North End Road, NW11 between 1908 to 1933.
Evelyn Waugh devotes a chapter to his father in his autobiography 'A Little Learning', published in 1964.
The following is an extract:
"Many little boys look on their fathers as heroically strong and skilful; mighty hunters, the masters of machines: not so I. Nor did I ever fear him. He was restless rather than active. His sedentary and cerebral occupations appeared ignominious to me in my early childhood. I should have better respected a soldier or a sailor like my uncles, or a man with some constructive hobby such as carpentry, a handyman: a man, even, who shaved with a cut-throat razor.
He was thirty-seven years old when I was born; in his early forties when I came to take notice of him...In childhood I often annoyed him; in early manhood, for a short time, I was the cause of anxiety which bordered on despair; but in general our relationship was social and intermittent, a growing appreciation on my part of his quality and with it a growing pleasure in his company.
In person he was small, of the same height that my brother and i eventually attained, but very much handsomer than either of us. He had large grey eyes, eloquent of kindness and humour, a fine brow and a full head of hair, which changed in imperceptible stages from grey to white. He had been very slight in build, but a about the time of my birth gained weight until in the end he was uncomfortably obese. I remember him as always corpulent. In dress he was conventional and tidy, but though he was noticeable in appearance and noticeably agreeable, he had a genuine conviction of his ugliness. He shunned the camera and, if he caught sight of himself in a glass, would recoil from his reflection crying, in the tones of the ghost in Hamlet: 'O horrible! Most horrible', or some similar expression of revulsion.
The illusion of old age was much enhanced by his own utterances. Like his grandfather, he often adverted to his imminent demise. He always referred to himself as 'incorrigibly Victorian'...and he found great satisfaction in visiting the site of his grave in Hampstead parish churchyard, but his melancholies were brief and quickly relieved. Most of his acquaintance regarded him as exuberantly jovial. He was by nature sociable and hospitable, but he had no pleasure in large gatherings and no ambition to move among richer than himself. He did not play cards or chess. He had no interest in any competitive game (except cricket, which, before my time, he played with distinction), but rejoiced and excelled in all paper and acting-games which required spontaneous invention.
He was physically brave. Having an irrational abhorrence of all anaesthetics and narcotics he had all his teeth drawn without gas and I remember him one night when warned, falsely as it turned out, that a burglar was lurking in the garden, patrolling it alone with a walking-stick calling: 'Come out, you ruffian, I can see you.' In neither war would he take cover from air-raids.
He was as munificent as his means allowed, delighting to give. The wish to cause pleasure and the wish for affection were indistinguishable in him...he had no appetite for power, no calculation. He never saved or owed a shilling."
---
Bert Matthews & Rebecca Matthews - Pearly King and Queen of Hampstead

1884-1970 (Bert)
I'm Linda Carter, the granddaughter of Becky and Bert Matthews. I was born and bred in Hampstead. I am now the current Pearly Queen of Hampstead...
Interviewee: Linda Carter, Granddaughter of Bert and Rebecca Matthews Interviewer: Robert Wilkinson
I'm Linda Carter, the granddaughter of Becky and Bert Matthews. I was born and bred in Hampstead. I am now the current Pearly Queen of Hampstead. Just to start it off how they started up, Nana and Granddad, it was in 1902 and they decided to go in fancy dress for the Bonfire Night up on Hampstead Heath. So they wanted something original, so my Nan sowed a few buttons on a suit of my Granddad's and a dress of herself. And they entered the carnival, the bonfire night carnival as 'Arry and 'Arriet of 'Appy 'Ampstead. From then on they decided that they were very interested in getting money for charity, collecting for their favourite charities. So she sat and she made their first original suits. By this time they were married, they lived in Perrins Court and they did an awful lot for charity. They collected over their lifetime thousands of pounds which probably today is equivalent to millions. Whenever they were called upon to go anywhere they went.
My Granddad was the borough rat catcher. After the First World War, him and my Dad between them had some ferrets in the back yard of their cottage in Flask Walk. So they used to go around rat catching - humane way of catching rats apparently. After the War my Granddad was offered by the local council, Hampstead Borough Council, to become the borough rat catcher Progressing from that obviously he retired in 19 - I think it was - 49. So it must have been in the late 40s when all this happened, my Dad decided he was going to sell shellfish around locally in the pubs. My Granddad had his little stall outside the Flask. And Dad had his at the Jack Straw Castle. And one of his customers who actually appeared on Granddad's This is Your Life was Betty Marsden. Apparently she used to get her Sunday shrimps off my Granddad.
Following on from that I'd like to mention something I'd like to mention something about Granddad's This is Your Life because it was a year after my Nan died and unfortunately it was meant to happen in the year of 63. It was actually filmed on the 13th of January 1964. And I must admit my Granddad sat the whole time with tears flooding down his eyes. I was still amazed to see how many people, not only celebrities but people from the different charities, came on that programme to say thank you to him. And it was much appreciated. Recorded in 1960 - BBC Archive
Becky Hampstead Heath was Hampstead Heath those days. It was a good old fashioned style. On a bank holiday Monday all the flash boys and girls used to come up there and there always used to be an organ up there. And we used to all stand in groups go up and down. You know not doing the fancy dance, just a jig. Twisted your heels round and cock it up your legs. Used to have a wonderful time there. Used to be on that ground hours doing that. Of course we enjoyed it very much.
Bert Yes of course the dancing there. You could see some of our boys they danced then better than you see on the stage see. Like the old step dancing what's coming back. We could do that well. When we used to go up with these girls when they used to do the Twist. I don't what they used to'They'd go up three times turn round come back. These they'd do this Twist. Then you'd see some of these boys try to do the same.
And another time what you'd see on Hampstead Heath, you'd see theses fellers come up, got a bit of mat, an acrobat. And you'd sat on the bank and you'd could watch them. You'd see some very clever fellers there same as what you'd see on the stage. But you'd see it out on the street.
Becky There would be another organ down the Old Bull and Bush where they're all dancing. Of course the dresses were right down to your feet then. Of course you used to hold up your skirt up but then you would very particularly never let anybody see your legs.
Bert Then you'd see these girls walk about six or seven abreast cuddling each other. And you could hear some of these girls playing the mouth organ as good as what they're on the stage I'll tell yer. And then we'd get about four men what used to come around and play the concertina. You know. And you could always tell a feller what would play the concertina because they always used to get the swing you see.
Becky I remember when the barrel organs used to come up where we lived in Perrins Court. And my two girls and all the other girls who lived in the wharf they used to do the Twist and dance there for hours and fetch a crowd round them.
Daughter I know I was only a little girl at the time but Wednesdays and Fridays were really my great days because I knew the organ was coming. And we danced and crowds of people used to come around and we used to get lots of money for the poor old organ man.

Speaker: Linda Carter
---
C.E.M. Joad - Writer, philosopher and broadcaster

1891-1953
One of the best-known British radio personalities of the 1940's
A Brains Trust programme broadcast in 1942
Chairman Next question comes from Aircraftwoman Alice Jones from the WAAF. She says, 'Lately I've come across a word new to me. The word is allergic. Someone says he's allergic to tomatoes for instance. Exactly what does allergic mean?' Joad.
Cyril Joad Well I imagine it's a compound word derived from two Greek words. One is the word 'ergon' meaning work and the other is probably the word 'allos' meaning other. It means therefore working against or working in a different sense from. Or in modern terminology reacting against because your work is other than the work of the thing against which you are reacting. Chairman Campbell.
A B Campbell The Americans use the word rather as a slang word they say''Cyril Joad was a philosopher, author, teacher and one of the best-known British radio personalities of the 1940's. He was born in Durham in 1891, but grew up in Hampshire where his father was an Inspector of Education. Joad went to Blundell's School in Tiverton, Devonshire, and then Balliol College, Oxford.
At University, he developed the pacifist and socialist views which led him to become a conscientious objector in the First World War. In fact he was so fearful of conscription that he fled to Snowdonia in Wales until it was safe to return. After sixteen years in the Civil Service, Joad was drawn to academia ' to become the Head of the Department of Philosophy and Psychology at Birkbeck College, London University. By this time he'd separated from his wife, and moved to Hampstead with a student teacher named Marjorie Thomson. This was the first of many mistresses, all of which were introduced as 'Mrs Joad'.
Joad described sexual desire as "a buzzing bluebottle that needed to be swatted promptly before it distracted a man of intellect from higher things." He believed that female minds lacked objectivity, and he had no interest in talking to women who would not go to bed with him. By now Joad was "short and rotund, with bright little eyes, round, rosy cheeks, and a stiff, bristly beard." He dressed in shabby clothing as a test: if people sneered at this, they were too petty to merit acquaintance.
Among his many books were 'A Guide to Philosophy' and a study of George Bernard Shaw which appeared in 1949, the year before Shaw's death. But he's best remembered for his appearances on 'The Brains Trust', a BBC radio programme in which a panel of well-known people were invited to give unprepared answers to questions from the audience. Like: "What is the meaning of life?" or "How can a fly land upside-down on the ceiling?"
He appeared on almost every edition from the very first programme, on New Year's Day 1941, until April 1948, and was notorious for playing for time by prefacing almost every answer with the phrase, "It all depends what you mean by ...."
The producer claimed that he had chosen fellow panel members Julian Huxley for his brain, Commander Campbell for his heart, and Joad, for his tongue. As Joad had become so well known, he was invited to give after-dinner speeches, open bazaars and even advertise tea. He also sold more books than ever before. He even stood as a Labour candidate at a by-election in November 1946 for the Combined Scottish Universities constituency. He lost.
In 1948, Joad pleaded guilty at Tower Bridge Magistrates Court to fare evasion on the railways, and was fined two pounds plus costs of 25 guineas. It emerged that, so far from being an isolated incident, Joad had an obsession about trying to defraud the railways. He used to carry pocketfuls of penny tickets, lie about which station he had boarded the train, and even scramble over hedges and fields to avoid ticket collectors. Joad once boasted in print that 'I cheat the railway company whenever I can'.
He was replaced on the next edition of the Brains Trust and never appeared on it again. The humiliation of this had a severe effect on his health, and he soon became bed-confined at his home. Possibly as a result of this, in his last years he changed from atheism to religion, as detailed in his final book, 'Recovery of Belief'. He died a year later in 1953, at his home in East Heath Road, Hampstead. He was 61.

Speaker: Cyril Joad
---
Catherine Carswell - Writer

1878-1946
The people who are buried here are our grandmother, grandfather, father, mother...
Harriet Wilson The people who are buried here are our grandmother, grandfather, father, mother, yes, and our grandmother's other daughter by her first husband who is not buried here. We're here now because the last of those members of the family who happen to be buried here, our mother, died on the 25th February 2001. Ten years ago and we come up here now and again anyway just to put some flowers there and thought we'd plant some flowers this time because '
Deborah Kaplinsky 10th anniversary. Both our grandmother Catherine Carswell and our father John Carswell were both writers. My grandmother wrote novels and journalism and they both lived in Hampstead for most of their writing lives really
HW Well Catherine Carswell, our paternal grandmother was a novelist, a Scottish novelist. Very well respected actually and her books have been republished since her death. And she did a great deal of journalism as well.
DK I don't know if she actually knew people in Hampstead but she came here in about - maybe just after 1900 with her young daughter who was called Diana and she was trying to get away from a rather stultifying situation in Glasgow where she had rather puritanical parents and she was a lone parent by then because her husband had been sectioned because he'd had a complete mental breakdown. So she brought her daughter down to London to kind of escape. I assume she came here because there were other people who were writers and who were artists because she wanted to come here to be a writer. That was what she wanted to do.
In those days you could get a very cheap room in Hampstead. It was not expensive. Her two novels are called The Camomile and her first novel was Open the Door! Both of them actually draw on her own Scottish experience. Well she's tried to be pigeonholed by some people as a kind of feminist because of her circumstances but she wasn't really political in her attitude. She just thought that she'd got to do, she was quite driven to do what she wanted to do. And she was very determined clearly. And quite selfish. We never met her. But she was quite selfish in her determination and really her writing was at the expense of everything else. At the expense of the rest of her relationships with people in a way.
HW But certainly both those novels are about a young woman growing up and developing and struggling to be their own person.
DK Her first novel I think it was won a prize which was a great thing. I can't remember it was only about £250 or something. But was a terrific boost to her.
HW She did an interesting thing which was when she found herself remarried and with a small boy, our father, living in a fairly small house, they didn't ever had very much money. So she found it difficult to have peace and quiet to do her writing. So she rented a room in Keats Grove which now of course would cost an absolute fortune. She rented a cheap room and I don't think she ever told anybody where it was did she?
DK Including her own husband or her son who was very small at that time and used to come back from school and find his mother not there and have to make his own tea. And she would reappear at 8 o'clock in the evening having been in her room. But nobody knew where she was. And there was no telephone of course. And there was no way of getting in touch with her. And so they had to just wait for her to come back.
HW Which is what you mean by a cross between selfish and very determined. If the only way you can write is to have some peace and quiet you go out and find it.
DK She died in 1946. She knew that my mother was going to have a baby which was me, but sadly she died about six months before I was born.

Speaker: Catherine Carswell's granddaughters, Harriet Wilson and Deborah Kaplinsky
---
Charles Lord - First Medical Officer of Health for Hampstead
1803-1891
The new ground on right hand side of Church Row was under the charge of Trustees of which I was elected one for life...
'Bad indeed alike no public disease as to morality and to the health question was the condition of the Metropolitan grave yards, seething putridity was walled in close around the dwellings of the living, long usage had given to such practices a sort of sanctity. Vested interests were interfered with by proposed new arrangements. The Health of Towns Association took an active part in the coming changes, certain Parochial rights, even fees to the Clergy were jeopardised. The then Bishop of London, Bloomfield, took a wide view of the subject, nobly assisting in obtaining extra-mural interments. He introduced deputations on the subject to members of the Government from associations which I had the privilege if attending; finally the great object was obtained. Kensal Green was established to meet a growing demand. The dislike to this removing the dead from their now cherished homes was great and wide spread'.
Other Cemeteries soon sprung up all around; popular dislike vanished and even our Clerical friends were reconciled to the inevitable; the altered system pressed somewhat hard upon Hampstead so that I heard the Incumbent was somewhat irate and one of his daughters trying to pacify him said 'this change of burial was not brought upon by the dissenters you know; a Clergyman of the Church of England will perform the service'; the Doctor patting the floor with his foot testily replied 'A Clergyman of the Church of England. A black parrot! A black parrot my dear'
Let me return to the Burial Act the stringency of which only applied at first only to the Churchyard properly so called. The new ground on right hand side of Church Row was under the charge of Trustees of which I was elected one for life. The lower portion used as pauper ground became so filled up that the more select and clearer ground was required for the funerals of the working classes ultimately the whole was closed against general use. The time and circumstances connected with the Cemetery at Mill Lane West End, you are all familiar with even perhaps what I have heard, that it has already become full. The Vicar's income has been greatly increased by the unexpected demand for graves which have been sought for much by Londoners and others from afar.
At a meeting when the purchase of the ground was determined upon, Mr Holland the Government Inspector was present. I could not avoid saying a word or two in favour (sic) of cremation. Mr Holland with whom in bygone years I had worked at the Health of Towns Association and the Statistical Society in St James Square playfully remarked, 'As you are so economical why don't you look after the products of the of the combustion and have by the side of your building one for preserving gas and utilise the dead bodies for lighting up our houses?' When the meeting was broken up I gathered from a conversation with Mr Barnaby that he did not differ much from me on the subject; was not hostile to Cremation.'
Taken from Lord's autobiographical notes which are held in Camden Local Studies and Archives
---
Columbarium

Interviewee - Richard Hill, Conservation Architect Interviewer ' Robert Wilkinson
The Columbarium is strange because it's like a building that's 50 years out of date. And that's its charm actually. It's a very pretty piece of Arts and Crafts design and it's very strange that it should have been designed and built so late on. It's partly, why does one say it's Arts and Crafts? it's partly the choice of materials, these very simple traditional materials. Oak lead, old fashioned tiles, thin bricks, very nice arrangement of little cobble surface underneath the roof. And partly the very simple detailing. It is just a sort of, just a shed really, posts and beams but done with great care and a sort of affection for the materials which you can't help but like. And it will need more repair at some point in the next few years. And it's one of those things that should be kept going really.
It has a slightly Japanese feel to it which I think is probably accidental. But it may not be. It might be that those kind of key devices at the tops of the columns were part of an interest in Japanese design. It's hard to say. But that makes one think of Japanese timber buildings which do get constantly rebuilt. And it's partly a religious and symbolic thing. But it would be nice to think that this little columbarium achieves that kind of status. It might be rebuilt and rebuilt and rebuilt as the years go on and it might all the bits of it are different from the original bits but it still looks the same. And that would be a rather nice thing if it could happen.

Speaker:
---
Daniel Sharpe - Geologist
1805-1856
Daniel Sharpe was the son of a brewer born in the very early 19th century but unfortunately within weeks after he was born he was an orphan. His mother died and his father died. And he went off to live with a half-sister along with the other children in the family. This really I think shaped much of Daniel Sharpe's life. For one thing he never married. He had a very dry wit. He was very friendly, but he also later on in his life became a great philanthropist. I think part of this was that he always recognised what could happen to the children particularly in the nineteenth century that were abandoned or didn't have the kind of family that he might associate with the nineteenth century Victorian family.
And at the age of 16 he was placed in a counting housing where he began being apprenticed to learn how to go into business. And that became his main career throughout his life. Unlike many men of science that we are familiar with in the nineteenth century, Sharpe had to make his own way financially. So he became a merchant selling and trading in port. Of course that meant he had to go to Portugal. He lived there for a number of years. He actually learnt Portuguese. Interestingly he began there to pursue the science of geology where he became really the first expert on the geology of Portugal and wrote very important papers outlining the structure and the age of the rocks and so forth for the first time. At the same time he was speaking at the Geological Society. An interest on the key problems of geology in the early Victorian period.
One problem which he was especially expert and concerned with were questions of physical geology. In other words how did the rocks come to be in the position and state that they're actually in. And he especially worked on the older rocks. Many of which had been transformed, metamorphosed sometime almost beyond recognition. He was very interested in the relationship for example between the original bedding of strata as they had been laid down and on the other hand on the phenomena of cleavage and other forms of alteration which had transformed the rocks subsequently to their being laid down as sedimentary rocks. In particular he developed interpretations of how those two kinds of transformation related to one another and how especially the phenomena had been produced by lateral motion ' in other words by pressing at the sides. This I think was very important and has proved in the long run very important, probably the most important thing that Sharpe did. Unfortunately he died quite young.
He was only 50 when he died but it meant in many ways that he didn't make it into many of the reminiscences and memoirs of people that were written in the later decades of the nineteenth century. So he sometimes is left out of the picture. Precisely the broad range of interests that he could bring to people's attention and show them really the fascination that science could have.

Speaker:
---
Edith Hepburn (AKA Anna Wickham) - Poet

1884-1947
Anna Wickham was the nom de plume of Edith Alice Mary Hepburn, born in Wimbledon, but whose parents both had Hampstead connections...
Anna Wickham was the nom de plume of Edith Alice Mary Hepburn, born in Wimbledon, but whose parents both had Hampstead connections. Her father's father had owned a shop opposite the Load of Hay pub in Haverstock Hill selling pianos, pianofortes and sheet music, and her mother's mother rented rooms to artists in Camden Town.
When Anna was an infant, her mother left her husband to set off for Australia, but was then followed by Anna's father who had obtained a job as the manager of a music shop. But floods put an end to the business, and the family moved from place to place, eventually ending up in Sydney, from where Anna eventually returned to England to pursue a career as a singer.
But it was not long before she was on the move once more ' this time to Paris, where she met future husband Patrick Hepburn. They were happy enough to start with, as time went on he became increasingly resentful of her literary ambition and jealous of the attention she lavished on their sons. She gave vent to her feelings of frustration about her marriage in her poem 'Nervous Prostration', which begins with the lines:
'I married a man of the Croydon class / When I was twenty-two. And I vex him, and he bores me / Till we don't know what to do'.
Things came to a head when Anna accidently smashed her hand through a window at their Hampstead home, 49 Downshire Hill, during a heated quarrel. Patrick promptly had her dispatched to an asylum, where she remained for six weeks. After this Anna gradually began to distance herself from her husband and cultivate a circle of literary friends - D.H. and Frieda Lawrence (who were at that time living in Byron Villas in the Vale of Health) and fellow poet Dollie Radford, who lived in Well Walk.
After WW1 ended, Anna and Patrick moved from Downshire Hill to Parliament Hill. Shortly afterwards their youngest child caught scarlet fever and died in the nearby Fever Hospital in Lawn Road. To help her come to terms with her grief, Anna revisited Paris, making new artistic friends, including the American lesbian poet and novelist Natalie Barney, with whom she fell in love.
When Anna returned to Parliament Hill her relationship with Patrick continued to deteriorate, and in 1926 he arranged a judicial separation.
On Christmas Day 1929, against the advice of the local people Patrick took himself off for a walking holiday in the Lake District in very bad weather. During the walk he apparently fell from a mountainside path, hit his head on a rock and later died of exposure. No one was ever entirely sure whether his death was accidental or whether it was suicide.
Anna was left to clear up the financial mess that her husband had left behind. It was not long before the strain of winding up his failing business whilst coming to terms with the shock of his unexpected death overcame her, and she made an attempt on her own life ' hanging herself at Patrick's former office in the city, and only being saved by the arrival of one of her sons.
She solved the problem of insolvency by opening up her house to paying guests, hanging a notice in the hall of 68 Parliament Hill NW3:
ANNA WICKHAM'S stabling for Poets, Painters and their Executives. Saddle your Pegasus here. Creative Moods respected. Meals at all Hours.
Two regular visitors were the writer Malcolm Lowry and the poet Dylan Thomas. By this time Anna had an international reputation as a poet, but was also increasingly interested in drama and ballet.
During the war, Anna remained in the Parliament Hill house. But she became increasingly erratic in her behaviour. A friend remembered when she had caused a stir in a local pub when she walked in 'in her Wellington boots, one pyjama leg sticking out from under a greatcoat'.
When Anna's two eldest sons, were decorated at a ceremony at Buckingham Palace for their distinguished feats during the War, she attended, but had to be convinced by her friends to take a bath, put in her ill-fitting set of false teeth, and to wear some borrowed clothes! The film of the ceremony was actually screened at the Everyman Cinema.
After the war ended Anna and her youngest son, George, lived on in 68 Parliament Hill, which was now in a state of advanced decay. One morning in April 1947, Anna told George to go out. He thought that she wanted to be left alone to write, but when he returned in the evening, he discovered his mother's body hanging from the frame of the French windows. Neighbours recalled him howling in the street after he had called the police.
Text by Christine Pullen
---
Edmund V Knox - Poet and satirist

1881-1971
Editor of Punch Magazine between 1932-1949, having been a regular contributor in verse and prose for many years...
Poet and satirist, known as EV Knox, or Evoe.
Editor of Punch Magazine between 1932-1949, having been a regular contributor for many years. He was the brother of Catholic priest and author Ronald Knox, the code breaker Dilly Knox, and Anglican monk and New Testament scholar Wilfred Knox.
Evoe was educated at King Edward's School, Birmingham and Rugby. His first marriage was in 1912 to Christina Frances Hicks. They had three children (including the acclaimed novelist Penelope Fitzgerald). Christina died in 1935 and two years later he married Mary Shepard, the illustrator of Mary Poppins (and daughter of E.H. Shepard who illustrated of Winnie the Pooh and The Wind in the Willows). Mary (Shepard) Knox died in 2000, and is buried beside her husband.
Evoe served in the Lincolnshire Regiment during the First World War and Punch reported in October 1917 that he had been wounded.
As a poet, he was noted for his ability to provide topical satirical poems for Punch in the style of well-known contemporary poets such as John Drinkwater, John Masefield and Walter de la Mare, usually managing to evoke the poet's general style and manner without resorting to parodying any particular poem.
Although best known for satire, some of his more serious poems, written during the Second World War (while he held the editor's chair at Punch), evoke by turns wistful nostalgia, grim determination and a longing for eventual peace, often using metres from Greek or Latin poetry or historical English forms.
Knox's short crime story 'The Murder at the Towers', written in 1929, is best-remembered for its witty opening paragraph:
'Mr Ponderby-Wilkins was a man so rich, so ugly, so cross, and so old, that even the stupidest reader could not expect him to survive any longer than Chapter 1. Vulpine in his secretiveness, he was porcine in his habits, saturnine in his appearance, and ovine in his unconsciousness of doom. He was the kind of man who might easily perish as early as paragraph two.'
And so he did!
Evoe lived at 34 Well Walk, and then at 110 Frognal between 1945 and 1971.
---
Eleanor Farjeon - Author and poet

1881-1965
In the early 1930's she had been asked to write some hymns, one of which was Morning Has Broken - to an old Gaelic tune...
Eleanor's father was the playwright and novelist Benjamin Farjeon, and her mother Margaret was the daughter of an American actor, Joseph Jefferson.
Her parents educated Eleanor and her brothers at home. When Benjamin died suddenly, the family moved to a modest house in Fellows Road. While her brothers set about the task of earning money to support the family, Eleanor persevered with her writing, and in 1908 Pan Worship and Other Poems was published by Elkin Matthews at the author's mother's expense. Through her brother Bertie, Eleanor made friends with Arnold and Clifford Bax and their circle of artistic friends. Clifford, who shared her love of poetry, helped to get her novel The Soul of Kol Nikon serialised in The Irish Review.
Upon the outbreak of the First World War, Eleanor's rented a room in her brothers house in Sussex. She commemorated Sussex life in her first story book Martin Pippin the Apple Orchard, which was published in 1921, after she had returned to London. The success of this book established her career. Its sequel Martin Pippin in the Daisy Field was not published until 1937 just before the outbreak of the Second World War.
In between the publication of the two books she first rented and then bought the home in Hampstead in which she was to live for the rest of her life - 20 Church Walk (now Perrin's Walk). Here she embarked upon her relationship with her brother's friend George Earle, with whom she lived until Earle's death in 1949. After Earle died, she had a close platonic relationship with the actor Denys Blakelock - a homosexual, and a Roman Catholic, and it was under his influence that she converted to Catholicism. Despite the fact that she had been brought up in a non-religious household (her father was a non-practising Jew, her mother broadly agnostic) she had always been interested in religion.
In the early 1930's she had been asked to write some hymns, one of which was Morning Has Broken ' to an old Gaelic tune associated with the Scottish village, Bunessan:
Morning has broken, Like the first morning, Blackbird has spoken Like the first bird. Praise for the singing! Praise for the morning! Praise for them springing Fresh from the Word! Sweet the rain's new fall, Sunlit from heaven, Like the first dewfall On the first grass. Praise with elation, Praise every morning, God's re-creation Of the new day!
Her spiritual side is revealed in a letter to her brother Joe, in which she gave an account of an uncanny event that she had experienced few days before her reception into the Catholic Church:
'On Friday I went to the lovely little church in Holly Place, with my rosary, where two weeks ago I'd gone to pray and be quite ' In the porch I stopped to tie a scarf on my head as I had no hat. Just as I finished I put my hand on the door and felt the handle turn very softly from the other side. The opener was a very little boy, not more than four I think, with a wonderful grave and innocent face and solemn eyes. We looked at each other for a moment and he held the door for me to go in as he went out. I said 'Thank you. What's your name?' He whispered, 'Peter. What's yours?' I said 'Eleanor' and he closed the door. Then suddenly I wished I said Mary [the name she had chosen for her Catholic Baptism], and opened the door to tell him ' and uphill and down there wasn't a sign of him. Isn't that a nice story ' whatever you make of it?'
Following the publication of her collection of stories The Little Bookroom in 1955 she received numerous awards but she turned down the 'Dame of the British Empire', as 'she did not wish to become different from the milkman'.
In 1959, she helped her friend James Roose-Evans to found the Hampstead Theatre. Farjeon had bought a small cottage, number 2 Perrins Court, during that War. It had been intended as a free lodging for a couple to provide domestic help. In 1963 at the age of 83 she finally decided to put the cottage to the use for which it was intended ' drafting the following advertisement for insertion in The Hampstead and Highgate Express:
'Hampstead Authoress, 83, needing part-time companion help offers newly furnished cottage 'to a responsible intelligent elderly woman with good references ''
Her wish to remain in her home until the end was granted. She died of pneumonia tended by a hired nurse, comforted by her cat, and having received the last rites from the local priest on June 5th 1965. Her niece Annabel Farjeon described her final resting place:
'Her grave is generally smothered by a big rambler rose and is hard to discover. She was never keen on personal publicity'.
Text by Christine Pullen

Speaker:
---
Eliza Acton - Cookery book writer
1799-1859
In Modern Cookery for Private Families she introduced the now-universal practice of listing the ingredients and suggested cooking times with each recipe
Acton wrote the first modern English cookery book, Modern Cookery for Private Families, which was aimed at the ordinary reader rather than professional cooks. She introduced the now-universal practice of listing the ingredients and suggested cooking times with each recipe.
Eliza, the eldest of nine children of a Suffolk lawyer, did not show any ambition to be a cookery writer. At the age of seventeen she, together with a Miss Nicholson, opened a school for girls in Claydon, near Ipswich which lasted for 4 years until Eliza left and the school soon closed down. She was said to be delicate and spent some time in France for her health, where it was suggested that she had an unhappy love affair with a French army officer. She returned home and the poems that she published in 1826 were mostly about unrequited love. These had modest success.
A decade later she offered Longman a second volume of poems which they rejected, but the publishers suggested she write something more practical. This was not the end of her poetry. Eliza also wrote two long poems, 'The Chronicles of Castel Framlington' in 1838, and 'The Voice of the North' to commemorate the first visit of Queen Victoria to Scotland in 1842.
Taking her publishers advice she applied herself to years of experiments at the stove before venturing into print. Modern Cookery for Private Families was first published in 1845 and was an immediate and lasting success running into several editions. It was the standard work on the subject, establishing Eliza as the first of the modern cookery writers. It even included the first ever recipe for Brussel Sprouts.
Though the book was addressed to 'families', her own household was just herself and her mother (plus servants), but she collected recipes from friends and tested them mercilessly. When reading her book you can tell she has put in considerable effort ' for example, standing over preserving pans to observe the exact moment when redcurrant jelly gels (after eight minutes' boiling).
Eliza wrote with great charm and clarity, and her methodical mind also led her to a great innovation. At the end of each recipe she listed, very exactly, the ingredients used, the time taken, and the possible pitfalls for the inexperienced cook. (In cookery books up until then this information, if given at all, was muddled in with the instructions on method. This was a completely new format, all other books on the subject being far less exact.
After the publication of Modern Cookery, Eliza moved to Hampstead, where she worked on her next book, the English Bread Book, published in 1857. It was aimed at a domestic reader, and along with recipes and a scholarly history of bread-making, this volume contained Acton's strong opinions about adulterated and processed food.
Eliza Acton had a broad circle of friends, some of whom she quoted as the source of her recipes. Unfortunately she suffered from ill health for a good part of her life. She died at home in Keats Grove, Hampstead in 1859.
Recipe for Bakewell Pudding by Eliza Acton:
Ingredients
1 ½-2lb mixed preserves 10 egg, yolks only ½lb sugar ½lb butter ratafia lemon brandy or other flavouring, to taste
Method:
This pudding is famous not only in Derbyshire, but in several of our northern counties, where it is usually served on all holiday-occasions. Line a shallow tart-dish with an inch-deep layer of good preserve, and inter mingle them from 2-3oz of candied citron or orange rind. Beat well the yolks of ten eggs, and add to them gradually ½lb of sifted sugar; when they are well mixed, pour in by degrees ½lb of good clarified butter, and a little ratafia or any other flavour that may be preferred; fill the dish two-thirds full with this mixture, and bake the pudding for nearly an hour in a moderate oven. Half the quantity will be sufficient for a small dish. Baked in moderate oven, ¾ to 1 hour
In this letter to her sister, Eliza Acton combined her love of poetry with her skill as a cookery writer:
If you want a good pudding, to teach you I'm willing; Take two pennyworth of eggs, when twelve for a shilling, And of the same fruit, that Eve once had chosen, Well pared and well chopped, at least half a dozen; Six ounces of bread ' let your maid eat the crust, The crumbs must be grated as small as the dust; Six ounces of currants from the stones you must sort, Lest they break out your teeth, and spoil all your sport; Six ounces of sugar won't make it too sweet, Some salt and some nutmeg will make it complete; Three hours let it boil, without hurry or flutter, And then serve it up, without sugar or butter.
---
Ernest Gidden - WW2 Naval Officer

1910-1961
Gidden is buried in that bit of the tombstone - the headstone. He is the second one down...
Gidden is buried in that bit of the tombstone - the headstone. He is the second one down. The first mentioned on the tomb or the headstone. That's at the west end of the grave is presumably his father. The father Herbert Oliver Gidden who died in 1930 aged 59. Now the next inscription on the grave is rather interesting. It says, 'Also our darling Mick. That's what his nickname was, the nickname of Lt Commander E O Gidden. It says GC (which is George Cross), OBE (which is Order of the British Empire), GM (which is George Medal). At Rest December 21st 1961 aged 51'. So quite young, but in fact a hero in the Blitz, in the London Blitz. He was one of the most heroic of the people who had to defuse bombs when they landed and didn't explode.
So Lt Commander Gidden won his George Cross for defusing a parachute mine on Hungerford Bridge in 1942. His obituary in the Times noted that when he arrived on the scene trains and sleepers at Charring Cross Station were alight as was the hotel. Tubes had been stopped and many local buildings including the War Office had been evacuated after six hours of work during which the timing mechanism began to tick. Tic tic. Gidden prised out the fuse with a chisel. He had earlier won the George Medal. And now he was going to get the George Cross. Local interest was that he was educated at University College School and he lived at 21 Elsworthy Road. I don't know anything about mines and defusings. I know a bit about chisels. But it doesn't make it any easier. He was just a wonderfully brave and heroic character.
Interviewer And he was buried along with his father.
That's right and there's another Gidden in the grave as well who is 'In memory of our darling mother Violet Gidden, widow of EO Gidden. She's the one on the foot of the grave on the east end.

Speaker: Christopher Wade, local historian
---
Ernest Radford & Dollie Radford - Poets

1857-1919 (Ernest) 1858-1920 (Dollie)
I am Kathy MacEwen. I'm the great granddaughter of Dollie and Ernest Radford. They were literary and political figures in the late nineteenth, early twentieth century...
I am Kathy MacEwen. I'm the great granddaughter of Dollie and Ernest Radford. They were literary and political figures in the late nineteenth, early twentieth century. Ernest came from Plymouth, part of a large family. He studied law at Cambridge. Dollie had a much more difficult childhood as far as I know her mother died when she was young. And then she was brought up by her father. Sort of unusual perhaps in those days. And she became friendly with Eleanor Marx. I'm not quite sure how when she was living in London as a young woman. And she and Eleanor were doing some research that took them to the Reading Room at the British Library. And there they spotted a rather handsome young man. And I rather like this story because they obviously went and gave him their card or whatever, and made it clear they'd like to see him again. And invited him I think to Eleanor's home which was obviously Karl Marx's home. And he took up the offer. So from that Eleanor and Dollie became friendly with Ernest. And particularly Dollie became more friendly with Ernest. There are some comments in Karl Marx's memoirs and writings about this young Ernest and this young Dollie. So that was one connection that they had.
They then married. They then, through their lives, became involved in the early Socialist Movement. So they knew William Morris, Socialist League - early members of that I think it's called, and various other literary people. So that they had connections with that. Dollie in particular was a poet also the mother of three children. Actually the gravestone in Hampstead Cemetery was designed by Walter Crane. So they were friends of his. Also HG Wells, George Bernard Shaw, DH Lawrence. So they had friendships with many people who are better known that they are. But obviously many people respected and liked them a lot and kept up friendships through their lives.
She obviously was a very loving warm woman. She helped DH Lawrence when he was in trouble. I think he and Frieda stayed with her. When in 1917 the Lawrences were expelled from Cornwall as suspected spies they took refuge with Dollie. And she was the basis of one of his characters in the book Kangaroo. She listened to people's troubles a lot. Life was quite hard in lots of ways but she had this optimism and maybe Ernest was a slightly more serious man. Another story about Ernest was obviously he became friendly with Karl Marx and he was one of the small group of people that were at Karl Marx's funeral. Ernest I think organised the first arts and crafts exhibition but after that we don't know if he became very depressed or whatever happened to him but he rather did less and less and Dollie I think became the more dominant of the two. So that was quite interesting. I think again at that time. Imagine in the late nineteenth century for a woman to have to take on the responsibility because her husband's obviously going through a crisis. Manage the children, manage life, imagine without a great income.

Speaker: Kathy MacEwen, great granddaughter
---
Evelyn Underhill - Theologist

1875-1941
Well, she's an extraordinary woman, I think. She's largely self-educated...
Interviewer What intrigued you about Evelyn Underhill?
Ann Loades Well she's an extraordinary woman I think. She's largely self-educated but becomes very learned, very authoritative. And she carves out an entirely unique vocation for herself which is of spiritual director, retreat director, advisor, as a woman, the first of her kind I think, within the Church of England within the first half of the twentieth century. That's quite an extraordinary thing to do.
I How did it all begin for her?
AL She was the daughter of a very distinguished lawyer. About aged 18, although I suppose in theory she could have pushed off to one of the new universities that were opening degree courses to women, she stayed at home. She went along to the Ladies Department, as it was then known, of Kings College, London. At Kings she studied History and Philosophy and Languages and Texts. And it really all took off from there. She got very interested in religion generally, religion, all kinds of' well I suppose we would now say whacky, oddball kind which were very refreshing I think after probably some pretty stuffy experiences of the Church of England as a child. Eventually she started to write. She hoped to be a novelist and a poet. And I think really found that her talent wasn't up to it. But where her talents really did flower was in writing these big books which really hit a jackpot in the sort of cultural and religious world of her time.
She was female. She was lay. She was extremely learned. She was well educated. She had the confidence to find a new vocation for herself and it really looked as she was someone worth paying attention to.
I And significantly female
AL And significantly female I think. Remember too that this is' initially this is pre the BBC. So you didn't have a great tradition of religious broadcasting in place. What you needed and what you had in fact was people on their feet going around doing things in an interesting kind of way. It's very interesting in the 1920s she becomes so well established that she can even give courses on prayer and spiritual direction to the male clergy. And she didn't threaten them in any way of course because she wasn't an advocate for the ordination of woman as it happened. I mean she might have changed her mind about that. George Bell the then great Dean of Canterbury, who became Bishop of Chichester, invited her to go and give retreat addresses in Canterbury.
I Can you just tell me, give me a sense of what the book is about and what was so important about that book at that time.
AL What she's trying to convince people of is of the richness, the generosity of divine love. And she wants people to believe very passionately and very deeply that they are loved and valued and wanted by God. She wants to find ways of encouraging them to open themselves to this love. And over a period of time and struggle and a lot of pain and difficulty, because none of it's easy, to be transformed into the kind of person who can live in harmony with one another, in harmony with God. And for her it was very important that the practice of adoration, the practice of prayer in particular, seemed to give people' it gave them renewed vitality and energy. You might think it would turn them all into a lot of hopeless wimps but to the contrary there they were reinvigorated, pitching themselves into this or that.

Speaker: Anne Loades Emeritus Professor of Divinity, University of Durham
---
Francis Robotham - Watchmaker
1760-1850
He was commissioned to wind the church clock daily and kept it in repair for a year at a charge of 3 guineas. At the time he died in his 90th year, he was supposedly the oldest inhabitant of the Parish
Robotham was a watchmaker in Hampstead High Street, and was commissioned to wind the church clock daily, and kept it in repair for a year at a charge of 3 guineas. At the time he died in his 90th year, he was supposedly the oldest inhabitant of the Parish.
On Wednesday, 15th of April 1801, Francis Jonathan Robotham's shop was burgled. The report of the proceedings at the Old Bailey survives:
WILLIAM EATON and JAMES EATON were indicted for breaking and entering the dwelling-house of Francis-Jonathan Robotham , Harriet his wife, and others of his family, being therein, about the hour of four, in the afternoon of the 24th of March , and stealing three pair of gold ear-rings, value 12s. a gold fancy ring, value 5s. and a pair of metal ear-rings, vaue 5s. the property of the said Francis-Jonathan.
FRANCIS JONATHAN ROBOTHAM sworn. - I live at Hampstead: The glass of my shop-window was broken on the 24th of March, I believe, between the hours of three, and six in the afternoon, and three pair of gold ear-rings taken, worth twelve shillings, a gold fancy ring, and a pair of metal earrings; I never saw the prisoners, till they were brought to my house, about six o'clock the same evening; I was from home at the time when they were brought back; they were searched, but no property found upon them.
THOMAS MASON sworn. - I live at Hampstead: On the 24th of March, between three, and four o'clock, I saw the two prisoners standing by Mr. Robotham's window, and between four and five there was an outcry of some things being gone out of the window; upon that, I followed in pursuit, the prisoners had got as far as Pancras Workhouse; I took them both, but there was nothing found upon them.
CHARLES WHITING called ' Q. How old are you? - A. Ten. Q. What is the nature of a oath? - A. Not to tell lies. (He is sworn.) I saw the little boy, James Eaton , throw away the ear-rings by a wall, at Hampstead; I picked them up, and gave them to John Nash ; Mason and Nash had them in custody at that time, (the earrings produced); these are the rest that I took up. Q. What time of the day was it that you saw them thrown away under the wall? - A. About five o'clock. Q. (To Mason.) What time was it when you took them? - A. Between four and five. Q. How came you not to search them? - A. I did not know that I was obliged to search them; I did not know anything about it.
JOHN KENT sworn. - I was with Whiting; I saw the ear-rings thrown away. Q. Do you know anything of the prisoners? - A. No.
JOHN NASH sworn. - I received the ear-rings from these two little boys.
Robotham. These are my ear-rings. Q. Then of course you do not know who was in the house at the time of the robbery? - A. My wife and family were in the house. Q. You were not at home? - A. No. William Eaton 's defence. We had been ill of a fever for a month, and we took a walk to Hampstead for the benefit of our health.
William Eaton, GUILTY, aged 20. Of stealing goods to the value of 4s. 6d. Transported for seven years.
James Eaton, GUILTY, aged 10. Of stealing goods to the value of 4s. 6d. Judgment respited.
---
George Du Maurier and Gerald Du Maurier - Cartoonist and Author (George) Actor (Gerald)

1834-1896 (George) 1873-1934 (Gerald)
I'm Rupert Tower and I'm related to the du Maurier family because George du Maurier was my great, great grandfather, George my great grandfather and his daughter Daphne my grandmother
I'm Rupert Tower and I'm related to the du Maurier family because George du Maurier was my great, great grandfather, Gerald my great grandfather and his daughter Daphne my grandmother. Daphne's second child, my mother Flavia. I come through that. They've always been quite strong images. And certainly in the case of George and Daphne particularly for me quite mythic figures when I was much younger. Every day I would pass George's grave and I would sort of nod. And I would remember the lines, those concluding lines from Trilby which I've always found very moving actually on his grave. 'A little trust that when we die we reap our sowing and so goodbye.' I've always found that rather moving.
Of course his first home was 27 Church Row. This was where he lived. I think this was probably when he'd met and probably was married by now to Emma Wightwick and probably his children were fairly young. Because he had a big family of five children. So here it began. And then about 1875 he discovered Newgrove House which really became the foundation of the du Mauriers in Hampstead. He lived there till his death really for 21 years. I can imagine him in Newgrove House; a typical scene would be there he is drawing at his easel, maybe working on a piece for Punch which he worked there for 30 years.
He had this wonderful St Bernard called Chang who would sit at his feet sort of adoringly. Typically Trixie and Sylvia would be playing the piano beside him. He'd probably have Guy as a model you know while he was drawing. There was something about George's drawings. They're always sort of larger than life. The women are even more beautiful than you would imagine. The men are taller. You can look at his drawings and perhaps it's because of his Frenchness that he could step back and look at the Victorian codes of society and be rather gently mocking. But you always felt there was a twinkle in his eye. There wasn't a cruelty about it or anything malicious. It was just playful. So I think of him with this sort of gently mocking humour. What probably began to make him love Hampstead is the Heath. The Heath would have reminded him of the Bois de Boulogne where he grew up in Paris. He had a very deep friendship with the author Henry James. There was a sort of Sunday ritual that would happen that they would both go for a very long walk on Hampstead Heath. And they would really share their deepest thoughts to what was going on for them. They would find this bench, I'm afraid I don't know where, there's a bench on Hampstead Heath which they would sit and exchange these confidences. It would be known as 'The bench of confidences'.
But I think with Punch that was a bit of luck really. There was a very famous illustrator call Leach who'd died suddenly I think about 1864. So suddenly at the age of 30, quite young, he'd got the opportunity to be the illustrator for Punch. Punch would come out weekly. And you know whatever was there, whatever was being said in Punch immediately all the MPs they would be in there lobbying and discussing what had come out. So it was taken quite seriously. And everybody would look forward to seeing, I think it sort of was on the left hand side you would see George's image and there was a cartoon on the right by somebody else. And he would just seem to really adore drawing and just being creative.
And I think there was something probably that Hampstead gave him here is that sense of space away from the madding crowd down there. Because it felt really that you were up with the gods here and London was quite far away. Where he could just be quiet. I think once he was an older man and sort of middle aged, he just loved being surrounded by his family and doing his creative work and just living that kind of quiet simple life. Those early years he was very involved with a lot of creative people. George knew as I said the Pre Raphaelites quite well. He knew James McNeil Whistler well. He was very much involved in the artistic, creative people of the times. John Ruskin, Edward Burn Jones, all of these people he would rub shoulders with. I think the thing about him, he was a very attractive person. And you really wanted to know him. He had a great sympathy and a great empathy. The sort of twinkle in the eye. A quality that just made people want to know him. Gerald was much more of a sort of matinée idol. I'd say he had an extrovert charm. But had this quality of light heartedness and a sort of good humour which was all very much part of that mocking thing. Probably a little bit more with a mischievous streak here with Gerald. But he was quite an inconsistent, sort of quite changeable moods I think, Gerald as my sense of him. I think had very much of the du Maurier thing of love of the past and nostalgia and probably bit of a sentimentalist. But at the same time probably his children would say he could be quite Victorian. But what he had was this extraordinary gift for mimicry. He really was able to take off anybody and had this very spontaneous humour.
Of course actually relating to the Hampstead grave yard, he really began his apprenticeship with Beerbohm Tree who is of course buried here. I think that Beerbohm Tree's arena was much more flamboyant and dynamic. So he grew up with that kind of sphere. But I think what Gerald began to evolve ' he then went to Mrs Patrick Campbell's Company after that ' then fairly early on, this is where he connected with JM Barrie. Thinking first of all of the famous Peter Pan in 1904. He was the first person to play both Captain Hook and Mr Darling.
But that began a whole sort of movement where he epitomised sort of in 1906,7,8 playing these gentlemen aristocrat crooks really. People like Raffles and Arsene Lupin, French gentleman detective, the Admirable Crichton. These sorts of things were his heyday. Really was very, very effective. The thing that Gerald really could do, he could speak lines on stage as if he was in your drawing room. There was a very high professional skill in this. He had a sort of quite a sharp quick dialogue, which I suppose Noel Coward elaborated. Really had a lot of professional acumen. What Gerald would do, and this is perhaps part of his more vain aspect, he would stand for hours really finessing his moves and his mannerisms and whatever. And I believe with some of these characters he would spend weeks sort of in dress, preparing and living them. So you could almost say, I don't know if it was too much, but he's anticipating method acting. So I think he really did work hard and yet he would have this sort of light hearted aspect which made you feel it was all terribly easy and he was being offhand. I think he was actually a very sensitive and very emotional man who probably felt things a lot more deeply than you might see on the surface. He could get sort of dark moods and occasionally depressed.
Barrie in the end wrote nine plays for him which he performed and starred in. So there's obviously some strand where they both respected each other as actor and as stagecraft. So that was an important link. He did carry on very much until the end of his life. Interestingly, he opened the Everyman Cinema in 1933 when it first opened and sort of presided over that. That was literally a year before he died. So I think pretty much up until the end of his days he was' And then of course du Maurier cigarettes was a little addendum which certainly looked after his wife for years afterwards.

Speaker: Rupert Tower, great, great grandson
---
George Paxon - Undertaker
1762-1840
During the eighteenth and nineteenth century there were several funeral directors in Hampstead...
During the eighteenth and nineteenth century there were several funeral directors in Hampstead, one of whom was Mills that we took over in 1940. Another one would have been George Paxon who would have been in the High Street rather than Heath Street. He was described as an auctioneer, undertaker and owner of houses. So the likelihood is that he had a carpentry business. That's why he was an undertaker. He was buying and selling property and building property himself and an auctioneer business. So that is something that is still the case in some areas where undertakers and auctioneers are involved in the same business. Probably very much a side line. The same with us, same with all the businesses. Likely that his business was mainly something else in this case auctioneering or building, carpentry. The undertaking side was a side line.

Speaker: Andrew Leverton, Leverton and Sons, Funeral Directors
---
Gillam Scott - The son of a 'mason and citizen of London'
Died 1735
This is the Portland stone headstone of Gillam Scott. You can just make out part of the rather weathered inscription now...
This is the Portland stone headstone of Gillam Scott who died in 1732. You can just make out part of the rather weathered inscription now. He was the son of a mason. What's fascinating about this monument is its double sided. The side looking to the east shows a skull, very bold crossbones, an open prayer book at the bottom, a tail biting snake, an ouroboros on the right for the emblem of eternity. Perched on top of the head of the skull is a winged hourglass for the fleeting nature of time. So this is a rather gloomy reminder of mortality and the need for us all to lead Christian lives before it's too late. But there's another side of the coin.
Uniquely on this headstone there's another side of the headstone. If you walk round it and look at the west side, you can actually see some cherub's heads. So what you are being told about there is do not be downcast, there's life to come. There you can see these three cherubim fluttering away in stone at the top of the scrolled head of the tombstone. So it looks very grim on the one side but the promise of Christian salvation is there on the other.

Speaker: Roger Bowdler, Designation Director, English Heritage
---
Hammersley Family
1863-1911
Well the first striking reaction of course is the actual beauty of the tomb...
Interviewer: What do you know about the Hammersley Monument? Christopher Wade: Well the first striking reaction of course is the actual beauty of the tomb. It's a very fine piece of architecture, sculpture, whatever. Inside the limestone shrine there is a bronze statue of a winged youth cradling a sleeping girl in his arms. This monument is signed by Harry Furze who exhibited frequently at the Royal Academy. So it is a work of art. Very notable and is listed Grade II by English Heritage.
The Hammersley family moved to Hampstead we know for health reasons. They moved to Admiral's House in Admiral's Walk, which is a very fine house in the heart of Hampstead. Hugh Hammersley had a wife, Mary, who is also inscribed here. She was known as Molly because the other daughter was known as Mary. She had tuberculosis. That was the reason for them coming up to the Heights, the Healthy Heights of Hampstead. She was the eldest of three sisters. She was immortalised in pictures by Augustus John, another artist. At her Hampstead salon people who came to visit frequently included Walter Sickert, Max Beerbohm, Henry James She died in 1911. The main reason for the tomb is in fact her younger sister who was called Eve Mary Hammersley. She was only ten when she died and she was called a 'blue baby' which means she was born at a great disadvantage. She died in 1902. She was the reason for this beautiful tomb was erected. So the Hammersley family obviously paid a lot of money to put it up.
Then the tomb also includes her sister Mary and her father who was obviously rich enough to be able to live at Admiral's House. It was probably the most beautiful work of art of the whole churchyard. It is a very interesting period when people like Walter Sickert and Max Beerbohm were around. And a very good bit of what you call it ' late Victorian art. That's poignant I'd call it. If you have a feeling for the sadness of the young girl but being cradled in the arms of an angel makes it seem perhaps sentimental but also very much to be admired

Speaker: Christopher Wade
---
Henry Cort - Inventor

1740-1800
Now largely forgotten, Cort was one of the great ironmasters of the Industrial Revolution...
Henry Cort was born in Lancaster in 1740. Now largely forgotten, he was one of the great ironmasters of the Industrial Revolution, but unlike other important inventors of his time, his visionary genius was exploited by others - and led him to financial ruin.
Cort's second wife's uncle owned a forge at Gosport which supplied ironware to Portsmouth dockyard. In 1776 he took over the management of the forge hoping to make a tidy profit from this lucrative market.
He made major improvements to the ironworks, to improve the quality of wrought iron, which in England was of poor quality at this time, and to find a way of producing it cheaply.
Cort took out the first of his curiously worded patents for "rolling" in 1783:
'a peculiar method of preparing, welding and working various sorts of iron amid reducing the same into uses by machinery, a furnace and other apparatus adapted amid applied to the same purposes' and a year later for "Fining" or "puddling":
'a new model shingling, welding and manufacturing iron and steel into bars, plates, rods, etc., and otherwise of purer quality in large quantities by a more effective application of fires and machinery with a greater yield than any method before attained or put into practice'
These inventions proved enormously successful, and were quickly adopted all over the country. Soon the navy stipulated that all bar iron for their use had to meet Cort's standards.
Before Cort developed his processes, England had imported massive quantities of wrought iron from Sweden or Russia. Within a decade of his patents, England became a major exporter of the product. The significance of Cort's work should not be underestimated given that 1793 marked the start of the Napoleonic Wars, with its demands for large quantities of iron, and the problems in importing items from abroad. It can be argued that, but for what happened at the Gosport ironworks in the early 1780s, the course of history may well have been very different.
What could have been a happy and prosperous ending was spoilt by a business partner, the deputy paymaster of the Navy who had lent Cort money to pay for development of the forge. This money had been illegally borrowed from Navy funds. To get the money back, the Government seized Cort's goods and property as well as the rights to the two patents and he was declared bankrupt in 1789.
In 1800, Henry Cort died at his Hampstead lodgings . On his tombstone, it is written ' ...he passed away a broken hearted man'.
---
Henry Kippin - Chimney Sweep
1909-1968
This the tomb of the Kippin family. Henry Kippin was the big well known chimney sweep in Hampstead for many years...
Christopher Wade: This the tomb of the Kippin family. Henry Kippin was born in 1882 and died in 1968 and he was the big well known chimney sweep in Hampstead for many years. So were the rest of his family. They nearly all lived around the centre of Hampstead. Henry himself was born in Perrins Court off Hampstead High Street. And he lived there all his life. He said he used to start work at four o' clock in the morning. He was paid five shillings a week. His grandfather and father, they were all chimney sweeps. Used the same technique which was with brushes. And not using boys to climb the chimney what had been the habit in earlier days. Henry Kippin retired in 1965. He was over 80 at the time, saying I'll soon be pushing up daisies rather than the brushes. You can see his old handcart in the garden at Burgh House. And you see it is labelled, 'Sweep and Carpet Beater'. And it's filled with flowers and is a nice tribute to the Kippin family.
His son was called Henry and he continued sweeping chimneys for some time. But we know more about the father because he was a character. And people of Hampstead knew him by sight. He trundled his old cart around the street. So that of course was a very good advertisement for his job. But he was a person people remembered of course if he came to sweep your chimney, you would have got to know him very well. I just remember a nice old man. He was tough but charming. And he was a very pleasant man, always said, 'Good Day' and 'Hello'.
Nearby his tomb is the Hampstead rat catcher of course who was also a famous local personage. These are examples of what you might call the hard working folk of Hampstead who don't get much notice and glory, but who kept Hampstead going for many years. And the inscriptions are all on the sides.
The north side has:
Henry J Kippin born 1882 and the east side has:
The devoted son of the above, HWE Kippin, born in 1909 and died in 1968.
Interviewer: It is interesting father and son both died in the same year.
CW: That's true unexpected I agree. I don't know what the story is behind that.
I: Yes so the mother died first in '57. Then Henry died in'68. We don't know actually if the son died before or after. It only says '68.

Speaker: Christpher Wade, local historian
---
Henry Lewer - City Merchant
1752-1819
A wealthy City merchant who took a country walk one Summer's day in about 1800...
In 'Annals of Hampstead' written in 1912 by local historian Thomas J Barratt, there's the tale of Henry Lewer of Pimlico. A wealthy City merchant who took a country walk one Summer's day in about 1800, and had finished up at Saint John's in Hampstead.
'I arrived here, and sat down to rest on a tombstone in the churchyard and as I surveyed the scene, I was so much struck with its beauty and the extent of the view that I resolved: If I cannot become a resident of Hampstead in my lifetime I would make it my resting place when dead'.
Lewer instructed his solicitor accordingly. He was buried in the churchyard - and so was his wife, his six sons, their wives and children, and even some housekeepers too. Not one of them had any living link with Hampstead.
---
Hugh Gaitskell - Politician, Leader of the Labour Party (1955-1963)

1906-1963
Gaitskell came from a very privileged background. He was public school educated. He went to Oxford University. He was an economist...
Gaitskell came from a very privileged background. He was public school educated. He went to Oxford University. He was an economist. So he chose the Labour Party, he chose socialism as an intellectual to equality and social justice. He came from that intellectual academic side of the Movement. His socialism came from a combination of things. First it came from a reading of history, particularly the history of political economy. And then it came from events. In 1934 he was in Austria when the socialist were repressed by the right. And he was very shocked by that. He was very shocked by what was happening in Europe. And in the 1930's you chose sides. Either you chose the sides of the Communists or you chose the sides of the Nazis. For Hugh he wasn't that extreme to choose Communism. So he chose democratic socialism as the most effective mean of fighting the Nazis in Europe.
After spending a year in Austria he came back to London and lived in Bloomsbury around Fitzrovia initially. He was teaching economics at University College, London. He was hanging out at the Fitzroy Tavern on Charlotte Street with Augustus John, with Hugh Dalton, with all the great left wing intellectuals of the day. And it's there he met Dora Gaitskell who was to be his wife and lifelong companion. Before Gaitskell met Dora he was not exactly listless but was a rather bohemian figure. He was having a jolly good time.
When he met Dora his life became much more structured and much more organised. They moved from their digs in Bloomsbury to Frognal Gardens in Hampstead. They organised themselves ' he ran for his first unsuccessful bid to be an MP. Then eventually after the Second World War he became a Member of Parliament and rose through the ranks very, very rapidly. She organised him, structured his ambition, made him in many ways the effective politician he later became. The Second World War transformed Gaitskell's position. He discovered a effectiveness that wasn't actually obvious before the Second World War - an executive effectiveness. He was very, very decisive. He was a brilliant civil servant during the conflict. He worked for Hugh Dalton in the Political Warfare Executive. Dalton was a key figure in the Labour Party destined to be the Chancellor of the Exchequer in the post war Labour Government. And he backed Gaitskell very, very strongly. So Gaitskell, elected in '45, spent only one year on the back benches and was then made a junior Minister. Only very late in his career did he actually transform his position through a series of very emotional speeches. For many years Gaitskell was seen as a very, very technocratic and rather dull politician. But some issues came up in the '50s which were to redefine him. The first was unilateral nuclear disarmament. His utter opposition to disarmament by Britain, his view that would lead to neutralism and abandonment of the Atlantic Alliance put him in absolute opposition to Michael Foot and Nye Bevan, the group known as the Bevanites. And the Party was split in the '50s between the Bevanites and the Gaitskellites. The Bevanites were on the left, most of them, although not Bevan were unilateral nuclear disarmers. The Gaitskellites , also known at the Hampstead Set, a sort of sneering comment about their middle class, public school origins. They were against nuclear disarmament. This was the great battle in the Party. And Gaitskell was so passionate about it that when the Party passed a resolution in favour of unilateral nuclear disarmament, he came out and he made a speech. His 'Fight and fight again' speech where he basically said, 'I don't accept this decision. I will fight with every power that I have to reverse this decision.' And he did. He launched a Movement. He changed the vote the following year. He changed the way people viewed it.
The second great issue that he became passionate about was Europe. In 1962 he made a speech where he said the European Community would be the end of a thousand years of British history. And again huge passion. The view of him in the Labour Party was transformed. He never got to enjoy the fruits of that transformation. Because soon after the thousand years of history speech he was dead. A mysterious illness, leading to wild rumours of him being poisoned by the Communists, led to his untimely death in 1963.

Speaker: Brian Brivati, Director, The John Smith Memorial Trust
---
James Burn - Chaplain
1727-1794
This striking neo-classical monument is to the Reverend James Burn. He was a senior chaplain to the East India Company...
This striking neo-classical monument is to the Reverend James Burn who died in 1794. He was a senor chaplain to the East India Company based in Calcutta, the capital of Bengal. So he clearly survived his time in India, came back to retire to Hampstead and after his death was given this really sumptuous monument in the neo classical style. But this is worth lingering at because it is such a delightful example of a neo-classical sarcophagus. And this shows the very strong influence of the Greek Revival. And the High, High Roman Revival in the form the monument takes. Like many of the others here, it's made of Portland stone. But the treatment is very different. The main body of the tomb, which is held up on two ridges underneath above the base, the main form of the tomb is of a sloping sarcophagus.
Sarcophagus is a Greek word meaning 'flesh eater'. So that was where the body would have been placed in a Greek tomb. On the sides of the sarcophagus you've got a very Roman form. It's called a tabula ansata, that rectangular inscription panel with two handles. That's really what tabula anata means ' handled inscription tablet. The lid consists of this marvellous swelling cover with corner acrateria or ears, a very Greek form of ornamentation with these long scrolls meeting in the centre. Vey neo- classical, very much in the spirit of Piranesi, the great etcher and reviver of the excitement of antiquity. So very much a monument, a fashionable monument of its day.
And there's one other bit of specific decoration that might have a funereal element to it. If you look behind the tabula ansata at the sides of the sarcophagus there's a wavy pattern. That's called 'strigulation' from the Roman 'implement', the scraping of oil off bodies, the strigule. Some people think that strigulation is very suitable for use on a funerary item like a tomb because it's expressive of the relaxation of sleep, of death. Whether that's true I'm not sure. But it's rather a good thing to ponder. What's so interesting about this monument is you can just make out on the north side a rather worn inscription to the Reverend James Burn. I couldn't read it for a long time. On the south side there's another of these tabula ansata, these inscription panels waiting for an inscription. But none came. So one assumes that Burn was the end of that particular line and wasn't succeeded by children.
If you make the investment of buying a space in a grave yard big enough for a brick lined vault there's going to be room for more than one coffin inside it. So there would be capacity for half a dozen coffins, maybe even more sometimes. Some of the vaults are extremely deep. So I think there was a hope that you're establishing a family resting place that would be used by later generations. And that helped justify the big investment on building a tomb in the first place. London did have a migrant population. Many people coming in and the need to put down roots, to build afresh, make a new start in this new city. It's a great way of laying down those roots and getting a family name established.

Speaker: Roger Bowdler, Designation Director, English Heritage
---
James McArdell - Mezzotint engraver

1728-1765
Born in Dublin. As a boy he became an apprentice of John Brooks, who began mezzotint engraving in Ireland in 1741
McArdell was born in Dublin. As a boy he became an apprentice of John Brooks, who began mezzotint engraving in Ireland in 1741. Brooks had with him for some time, as his assistant, Andrew Miller, who had previously been working as a mezzotinter in London; and it was probably from Miller rather than Brooks that McArdell learned his art. In 1746 Brooks migrated to London and was accompanied by McArdell. For a short time master and pupil remained together; but they soon parted company, McArdell settling down to pursue his profession with a steady industry and perseverance which soon placed him in the forefront of British mezzotinters.
Not long after his arrival in London he scraped a humorous print, "Teague's Ramble at Charing Cross," probably after a drawing by himself. By the age of 21, he secured recognition as an able exponent of his art, equal to the best of his contemporaries, and he established himself at the Golden Head in Covent Garden, where he began to publish and sell his own prints.
In 1752 McArdell's fine print of "The Duke of Buckingham and his brother," after Van Dyck, still further enhanced his reputation and brought him increased practice. The first three of his long series of prints after Sir Joshua Reynolds, the first President of the Royal Academy, appeared in 1754. These were "Lady Charlotte Fitzwilliam," published by Reynolds himself, and the pair of portraits of "The Earl and Countess of Kildare," which McArdell did for Michael Ford of Dublin.
In all McArdell scraped thirty-eight plates after Sir Joshua's pictures, a brilliant series in which the painter's work interpreted by McArdell with marvellous truth and grace drew from Sir Joshua the memorable words: "By this man I shall be immortalized'.
Reynolds kept these plates in a portfolio from which sitters could choose and adapt poses. He was one of the first portrait painters in the 18th century to hire an engraver to make a mezzotint of one of his works for the sole reason of publicising it.
McArdell also engraved several paintings by Rembrandt, Rubens and Van Dyck.
According to The Dictionary of Irish Artists, published in 1913, 'He cultivated his great natural capacity by steady industry and application; and the thoroughness and high artistic qualities of his work gained for him the recognition and appreciation of the principal painters of his time. He had brought his art to a perfection never before attained, and was at the zenith of his fame when his life was suddenly cut short. He died in Henrietta Street, Covent Garden'or according to the Freeman's Journal (8th-11th June, 1765), at Hampstead'on 1st June, 1765, in his thirty-seventh year, and was buried on the 5th in Hampstead Churchyard. McArdell was never married.
Over his grave was placed a flat stone with the inscription:
"Here Lyeth the Body of Mr. James McArdell, Metzotinto Engraver of London, who departed this Life on the 1st of June, 1765, aged 37 years. A native of Ireland and the most eminent in his Art in his time."
The stone, having sunk and become overlaid with earth and grass, was for long thought to have been removed, but was discovered in 1910, when it was raised upon a brick foundation and the lettering re-cut. The expense was defrayed by subscriptions, and the words, "Restored by subscription, 1910," were added.
---
Joanna Baillie - dramatist and poet

1762-1851
Scottish born Joanna Baillie was the most famous woman dramatist of her day. She lived in Hampstead from 1791...
Readings by Barbara Alden, John Dansey, Christine Riseboro, Bill Riseboro. The Hampstead Players: in 'Joanna Baillie and her World', performed at Saint-John-at-Hampstead, 16th February 2011Joanna Baillie lies buried outside in this churchyard. She was born on September 11th 1762 in the manse at Bothwell in south Lanarkshire. Her father, James, a Scottish Presbyterian minister claimed among his ancestors the nationalist Sir William Wallace. Her mother, Dorothea Hunter, also buried in our churchyard, was descended from the Laird of Ayrshire. Joanna's aunt was the poet Ann Hunter, and her uncles were the noted royal surgeons William and John Hunter. So Joanna imbibed both creative talent and intellectual stimulus. She was born a twin but her twin sister died shortly at birth. She had an older sister, Agnes and a brother Matthew.
Joanna's first teacher was her father who was strong on ethics but rather neglected the 'Three Rs'. She was composing verses before she could read. And astonished everyone by the amusing tales she invented. As a child Joanna was known for her fearlessness and her tomboy love of outdoor life.
'I rambled over the heaths and splashed in the brook most of the days. '
She rode any pony that came her way. Once when she was riding double with her brother Matthew, he was thrown off and broke his arm. 'Look at Miss Jack.' said an admiring farmer, 'She sits her horse as if it were a bit of herself.
When Joanna was six her family moved to Hamilton. Then at age ten she was sent to boarding school in Glasgow where she excelled in music, art, mathematics and reading. And where she took to entertaining friends by telling stories and organising her own theatrical shows. The family moved to Glasgow when her father was appointed professor of divinity at the university in 1776. By which time Joanna's maturing intellectual ability was evident.
Sadly her father died two years later. And she moved with her mother and sister to Long Calderwood in Lanarkshire where she mostly educated herself, reading the major British poets and studying Shakespeare.
When she was 22 Joanna and Agnes joined their brother Matthew, now a qualified doctor to live in London. And seven years later the sisters moved to Hampstead, then definitely on the outskirts of London. Joanna now began writing intending to publish. That first collection of poems, published anonymously in 1790 received a favourable review that encouraged her to continue writing. She began to see success in 1798 with the publication of her first plays.
The minister of a dissenting Presbyterian chapel in Rosslyn Hill now Unitarian, was the Rev Rochemont Barbauld. He and his wife, the radical writer, Laetitia Barbould, made their home in the centre of an influential group of literary people. Among this group was Joanna Baillie. She was described as 'a stiff, solemn, Scotch girl, small and light in person who sat demurely while her work was discussed. Lucy Aiken, niece of Mrs Barbauld and a near neighbour in Hampstead records:
'I well remember the scene. She and her sister arriving on a morning call at Mrs Barbauld's. My aunt immediately introduced the topic of the anonymous tragedies and gave utterance to her admiration with that generous delight in the manifestation of kindred genius which distinguished her. But not even the sudden delight of such praise so give, could seduce our Scottish damsel into self-betrayal. The faithful sister rushed forward as we afterwards recollected to bear the brunt. While the unsuspected author lay smug in the asylum of her taciturnity.'
By the early 1800s she had established herself as a respected poet and dramatist. Then in 1806 one of her warmest admirers, William Sotheby, introduced Sir Walter Scott to her for the first time. Regarding her first impression of Scott, she confessed:
'I was at first a little disappointed for I was fresh from the Lay and had pictured to myself an ideal elegance and refinement of feature; but I said to myself If I had been in a crowd, and at a loss what to do, I should have fixed upon that face among a thousand, as the sure index of the benevolence and the shrewdness that would and could help me in any strait! We had not talked long, however, before I saw in the expressive play of his countenance far more even of elegance and refinement than I had missed in its mere lines.
In Spring 1808 Joanna and her sister Agnes were the guests of Walter Scott in Edinburgh. Scott had asked Joanna for her honest opinion of his House of Aspen. And she duly sent him an in depth criticism of it. In May that year the sisters travelled further north evidently in search of inspiration as Scott wrote to Joanna on May 9th:
'Nothing will give me more pleasure than to hear that you have found the northern breezes fraught with inspiration.'
Referring to her literary efforts Scott also wrote:
None is so deeply interested in your labours as your truly respectful friend and admirer.'
Once when Scott visited Mary Berry he heard Joanna's play The Family Legend being read aloud. Mary wrote:
'It had a vast effect upon Walter Scott and one that was very pleasing from the evident feeling of one poet for another. Later it was published largely on the strength Scott's statement:
'People are dying to read it.'
Most of the literary men and women of the day found their way to Joanna's house in Windmill Hill. Many recorded their experiences in journals and letters, but Scott's letters show the most extravagant admiration of her. The closeness of their friendship is shown also by Scott's affectionate address to:
'My dearest friend. I would give as much to have a capital picture of her as for any portrait in the world.'Scottish born Joanna Baillie was the most famous woman dramatist of her day. She lived in Hampstead from 1791, until her death in 1851. Her 'Plays on the Passion' was a theatrical sensation in the 1790s, drawing the likes of Byron, Wordsworth, Keats and Sir Walter Scott to her Hampstead home
The poet William Wordsworth said of her: 'If I had to present a foreigner anyone of us as a model of an English gentlewoman, it would be Joanna Baillie'.
Her poem 'Address to the Evening Primrose' comes from a collection published in 1823, the same year her beloved brother Mathew died.
Address to the Evening Primrose
The sun declines; his parting ray Shall bear the cheerful light away, And on the landscape close: Then will I seek the lonely vale, Where sober ev'ning's primrose pale, To greet the night-star, blows.
Soft, melancholy bloom! to thee I turn with conscious sympathy; Like thee, my hour is come: When length'ning shadows slowly fade, Till, lost in universal shade, They sink beneath the tomb.
By thee I'll sit, and inly muse What are the charms in life we lose When time demands our breath: Alas! the load of ling'ring age Has little that can hope engage, Or point the shaft of death.
No! 'tis the pang alone to part From those we love, that rends the heart; That agony to save Some nameless pow'r in nature strives; Our fading hope in death revives, And blossoms on the grave.

Speaker:
---
John Adams - Beadle of the Parish
1762-1831
John Adams was a Beadle of this Parish for 28 years and having most faithfully discharged the duties of his office...
John Adams was a Beadle of this Parish for 28 years and having most faithfully discharged the duties of his office, the Parish has caused the stone to be placed in his memory
The office of Beadle dates back to an Official of the Roman Temple and has developed over the centuries through the Parish Beadle, who had charge of the property of the parish, into the Parish Constable, who also enforced discipline in the area. The world beadle is derived from the Latin 'bidellus' meaning herald.
At the time Parishes were run by unpaid officers appointed annually by Justices of the Peace, and were obliged to serve terms of the office regardless their suitability. Some of those appointed were not always willing to carry out the work, so some recouped their lost time by making huge expense claims.
The name of John Adams, and other churchwardens, can also be seen on the list of people who were donating bread to the poor that was collected in the special charity bread cupboard that is preserved in Saint John's Church.
---
John Constable - Painter

1776-1837
1.He was born in Suffolk, in East Bergholt, which is actually on the Suffolk/Essex border really...
Interviewer: We should find out a bit about Constable. Where was he born? What was his family background?
Anne Lyles: He was born in Suffolk in East Bergholt, which is actually on the Suffolk/Essex border really. So very close to Essex. Usually when somebody asks where somebody was born it's just a detail. But with Constable it tells you everything you need to know about him as a person. Because he was the son of a miller. So his father traded in grain and owned mills. And his father was actually quite wealthy. So Constable was well off, the family was well off. He had an idyllically happy childhood in Suffolk and rambling around those edges and byways and leeways of the mill and going out fishing. This sort of carefree childhood and love of nature inspired his wish to become a painter. So Suffolk in his life and this very happy childhood informs the whole of his career in that way.
I: How long was he in Suffolk for?
AL: Well he was brought up in Suffolk and then he decided to train to be an artist and went up to London in about his mid 20's. But then what he did is, although he was London based from that age on, he then used to go back to Suffolk every single summer to go back and paint and live with his family. So it wasn't really until about halfway through his life when he got married and then he became permanently London bound, especially when he started having children because he and his wife Maria had seven children altogether. It wasn't until that stage that, if you like, he gave up living in Suffolk in any real way.
Constable was seriously ambitious but he was ambitious for a type of art which is landscape painting, which wasn't particularly highly thought of. So he was really stretching the boundaries of what was acceptable in painting. And most of all by treating landscape which was quite low in the hierarchy of the favoured sort of subjects for art. But also his particular bias was to paint everyday landscape and to paint it realistically and honestly without sort of the pretensions of leaning on conventions of Old Master paintings. You know so he didn't do historical landscapes or classical landscapes. He wanted to do real Suffolk landscapes. And that potentially was a bit of a problem because people thought that they were a bit lowbrow. Interviewer: Tell me about Constable's journey to Hampstead and what date and when did he discover Hampstead?
Anne Lyles: Yes well we know this is very interesting. Hampstead is so closely associated with Constable one tends to think that it just happened. And actually in a way it did happen fairly fortuitously. Because what happened is after Constable married his great love Maria Bicknell and they were married towards the end of 1816. And children followed very fast. The first child was born in 1817. And Constable had to take lodgings in the West End, usually around Bloomsbury or Soho as well ' artists lived in those days. But Maria, his wife, there was a family condition that she inherited tuberculosis which is generally known as 'consumption' sort of in those days but is actually TB. And the children were fairly sickly. I think it didn't help that in the west End there was very bad pollution.
So what Constable decided to do for the sake of Maria's health and the children, from 1819 was to take lodgings in Hampstead where the air was cleaner. And this was a well-known sort of artists and writers colony in Hampstead at this time. Partly because it was picturesque but also because of the clean air. And better still wasn't far from London, just about three or four miles. And there was a regular carriage service. So what it meant was that Constable could deposit his growing family in Hampstead in the summer in lodgings and go and see them by coach regularly, keep his studio in the West End where was more space to paint the six footers.
I: What kind of lodgings were they?
AL: Well they varied and we don't always know exactly where those particular houses were. And they needed to be more capacious as the family grew. But he had some very attractive lodgings we know in Lower Terrace in Hampstead. The house still stands to this day. And he took those in 1820 and 1821 respectably. And Lower Terrace as local Hampstead residents will know is very close to the western edges of the Heath. So that was good because it meant that Constable could have access to the Heath and he could paint the sunsets on the Heath which is exactly what he did around this period.
I: Do you now looking back does it seem inevitable that Constable would choose Hampstead as a natural subject?
AL: Well interestingly enough it does seem totally natural but I think you know there is a, you know that great word that people use ' serendipity - there was a bit of luck in it. Having gone to Hampstead for the purposes of the health of his family, he then discovered a sort of landscape that in essence was home from home. Because what's interesting about Hampstead is actually when you think of its elevated position as you stand on the Heath you get these vast skies and fast moving clouds and big expansive views. And I'm sure for Constable that reminded him of Suffolk. It was the closest thing that he could get to a kind of country, or near country like naturalistic landscape that was like Suffolk.
And actually the other interesting thing about the Heath at this stage is that it's, for want of a better expression, one might call a working landscape. So in his paintings of Hampstead you see people go for walks and taking their leisure and children pushing their hoops. But most of all you also see labourers digging out sand and gravel from the pits ' the sand pits actually on the Heath. And this quarrying had been going on for centuries and apparently sort of wagon loads of grit and sand used to pass through Hampstead Village regularly every day. And Constable you actually see him painting those labourers. And I think again there are links here to Suffolk. Because in Suffolk you see him painting the labourers, be they you know, ploughing or reaping or sowing. And Constable just lives a working landscape, not just an ideal beautiful landscape but a working landscape.

Speaker: Anne Lyles, curator Tate Britain
---
John Harrison - Inventor of the Marine Chronometer

1693-1776
1. I'm just about to wind the Harrison time-keepers...
Jonathan Betts: I think Harrison succeeded really because what was needed, if the solution was to be a marine timekeeper, what was needed was one hell of a big ask shall we say. There were only two kinds of timekeeper which could possibly solve the problem. One was a fixed clock with a pendulum and of course the idea of taking a pendulum to sea was a non-starter. Or watches, and watches were hopelessly inaccurate timekeepers. The very best watch was only capable of 30 seconds a day. And in order to win the great longitude prize, if it was to be a timekeeper, it needed to keep time within three seconds a day. So most people simply didn't believe any type of timekeeper was ever going to solve the problem.
So Harrison was virtually alone in struggling with a timekeeper. Most others were not bothering with such things. They were busy making their money by selling clocks and watches in the ordinary way. So he was almost on his own doing this. The way he succeeded really was by sheer determination. Because he had to go through an enormous number of negative returns if you know what I mean. He had to find out what would not do before he could narrow it down to what did eventually do. And it took him his whole life.
Interviewer: So H4 what was different about H4? Why did H4 do the job?
JB: Harrison's development of H4 was a complete revolution really. He had been struggling with H3 for 19 years and he tried every kind of every which way to make this timekeeper keep time. And the penny was beginning to drop that these large, slow moving timekeepers were not going to be the solution. The trouble is watches were so inaccurate that no-one believe that a watch could ever solve it. And it was Harrison to his credit who found out that actually there was a way to improve watches. That is by making the little balance, which is the little beating heart inside the watch, he changed the proportions of it so that it stored more energy, principally by beating much faster. This really was the solution to the longitude problem. And it's something that no-one had ever tried before. So after half a lifetime of work on these large machines, Harrison discovered that that it was watches after all which were the solution to the problem. Then he started developing watches; and H4 was the result. Jonathan Betts: My name's Jonathan Betts and I have the rather pompous title of senior specialist in horology here at the Royal Observatory which is part of the National Maritime Museum. And I'm just about to wind the Harrison timekeepers. They have to be wound every day and we always do so just before we open to the public.
So this is Number 1. Opens case. Number 1 you don't have to get into the case. It winds with a little cord which dangles down underneath. It's just a straightforward pull down. Winding noise. That's all there is to it. We always wear white gloves when winding the other timekeepers because it involves handling the metalwork of the timekeeper. So we obviously don't want to leave paw prints on them.
Right let's move on. They have to be done every day otherwise they stop. So we kind of divvy up the Harrison winding between about four of us. And obviously I make sure everyone's trained so they know exactly what to do. And I think it's fair to say they have run pretty well constantly over the years. Occasionally something happens when they're not wound and they do stop. But for the most part they've run pretty well constantly for the past 50 years or so. In fact since the Second World War virtually non-stop. The marvellous thing about them is they have no lubrication in them. They're virtually frictionless. So they work almost without needing any other attention.
Right let's now wind Number 2. Opens case. You have to open the showcase to do Number 2. Number 2 I think has the most beautiful sound. It's the one that sounds the nearest thing to a well-tuned steam engine I like to think. Clock ticking. The winding crank, it just takes two full turns. Winding noise. That's all it takes. Clock ticking. It's almost musical isn't it? I had a musician friend who reckoned he could virtually write a score for it. Laughs. Each sound is almost a note isn't i?
I'd like to get these out because sooner or later the public will come in and we need to make sure the cases are all properly closed before they do. OK that's Number 2. And last but not least H3. Opens case. H3 is a lot quieter. It kind of whispers rather than ticks. But it does have this device called the remontoir which winds every 30 seconds. So occasionally you'll hear a little kind of running of wheels and a little clonk as it stops. This too takes two turns of the crank to wind every day. Winding noise. That's it. Ticking noise.
Interviewer A gentler sound
JB Much gentler isn't it. Suggestive of more efficiency and a sort of quieter, more precise performance which is what Harrison was striving for. H1 was built between 1730 and 1735. H2, by which time John Harrison had moved to London and we know he had help working with H2, took just two years. Then H3 was the real big one. This he spent 19 years of his life working on. Because at this stage he was convinced that these large, heavy machines were going to win the Longitude prize.
And he wouldn't let go. And he spent, as I say, 19 years of his life working on it. It was only towards the end he finally began to realise that this was not going to be the solution. And that the solution lay in something else altogether. Which was in fact a much smaller watch which had a much higher frequency oscillator. Which, as it turned out, was the solution. Closes case. Right that's 1, 2 and 3 wound. OK.

Speaker: Jonathan Betts, Royal Observatory, Greenwich/National Maritime Museum
---
John Hindley - Charitable donor
1852-1807
It's a wonderful inscription which is still very legible...
Christopher Wade I think you've got Mr Hindley. I'm very fond of Mr Hindley. There's that wonderful inscription about his total life finished up as a moderate complacency was it? It's very quotable. It's not much to look at. It's broken. It's a wonderful inscription which is still very legible. John Hindley, yes there you are. Under very peculiar disadvantages which to common minds would have been a bar to any exertions. He raised himself from all obscure situations of birth and fortune by his own industry and frugality, to the enjoyment of a moderate competency.
Interviewer We didn't understand this. According to this only his ashes are buried here. A curiously early example of cremation. He was buried in 1807. I think that's too curious.
CW Obviously the ashes aren't there, that's just a wall isn't it. So I don't know what happened to them. I just think it's a lovely florid'
I It's a fantastic inscription.
CW I think I should like that on my tomb stone.In Caroline A. White's book 'Sweet Hampstead and its Associations' written in 1900, there's an intriguing description of her discovery of the tomb of John Hindley:
'In wandering through this, the only graveyard in Hampstead, one notices the absence of those doggerel lines and absurd inscriptions once so frequently seen in the country churchyards, and which were wont to introduce a sense of the ridiculous into these solemn places. There is still remaining an inscription on a tombstone in the churchyard that for complacent egotism is ludicrously noticeable'
Here lie the Ashes of
MR. JOHN HINDLEY
Of Stanhope Street, Mayfair, London; Originally of King Street, Liverpool; who under peculiar disadvantages, Which to common minds would have been A bar to any exertion, Raised himself from all obscured situations Of Birth and Fortune by his own Industry and frugality To the enjoyment of a moderate competency. He attained a peculiar excellence in penmanship and drawing Without the Instruction of a Master, And to eminence in Arithmetic, the useful and higher Branches of the Mathematics, By going to School only a year and eight months. He died a Bachelor On the 24th day of October, 1807, In the 55th year of his age, And without forgetting Relations, Friends, or acquaintances, He bequeathed one fifth of his Property To Public Charities.
Reader, the world is open to thee. Go thou and likewise

Speaker: Christopher Wade, local historian
---
John Hurrell - Shopkeeper and sand quarrier
1756-1827
John Hurrel was a shopkeeper in Hampstead High Street who had a second trade working the sandpits on Hampstead Heath...
John Hurrell, born in 1756, was a shopkeeper in Hampstead High Street who had a second trade working the sandpits on Hampstead Heath where sand had been quarried for hundreds of years. It was of high quality, used for building and castings for ironworks. In the early nineteenth century up to twenty cart loads of sand were being extracted a day from the Heath.
John Constable painted one of the quarries at nearby Branch Hill in 1828 with a cart in the foreground ' but unlikely to be John Hurrell's, as he had died just one year earlier.
---
John Lloyd - Victim of body snatching
1746-1791
Body snatchers were usually paid professional people. And they came out into graveyards to steal fresh bodies for the anatomist to study human anatomy. Before they developed as a professional group, students used to come out on their own, or doctors would come out on their own. But it was very risky because if you got caught body snatching you could be pelted with mud, you could be strung up. There was a lot of violence against body snatchers. Because people who buried their dead and people, who loved their local churchyard, didn't want other people to steal bodies out of it. They believed in the Resurrection and they believed in rest in peace RIP. It's on all the stones in the cartoons isn't it. It's terribly important to leave the body alone. And so body snatchers were thought the lowest of the low. Although it's very difficult because students were also expected to learn their anatomy. And the public also wanted good surgeons who could amputate a leg safely or bleed people safely. I mean they wanted good medical practitioners too. So there was a kind of split personality amongst attitudes of the public. They knew body snatching happened but they didn't want it to happen in their churchyard.
Right, the victim is Mr Lloyd, yes. What I haven't explained is until 1832 the only legal source of bodies for anatomy legally were hanged murderers. They'd be hanged at the gallows and given to the surgeons. But there weren't enough of them. And at the time there was developing in all major cities in Britain private medical schools, because there weren't any public ones there were private ones they were made for profit. So that the doctors didn't have enough bodies. So they would either go out and get them themselves, the students would go out and get them themselves. Or when it got too dangerous they started to pay people to get them. And that's when you get bodysnatching turning into a profession. Most medical schools would have several teams, gangs. And they were not nice people to cross. But if they were caught they had a difficult time of it.
This graveyard would have been a perfect place for a body snatcher in the late eighteenth, early nineteenth century. That's when it's really happening, that when the peak of it is. It's in easy reach of London, it's not far out. But it's surrounded by fields. So it's quite a rural, quiet churchyard which meant that if you were digging, nobody would hear your shovel. You know they wouldn't hear the sound. So if you were living in Hampstead Village or you knew someone in Hampstead Village and you knew there was a funeral you'd hear it because of the tolling bell. You'd send somebody up to have a look. Which grave, whereabouts, and then come a couple of days. You'd leave it for the first night may, people, might watch for the first night. But this is generally in the winter, this is happening because the dissecting season was in the cold weather. They didn't have formaldehyde or any preservatives. So it was a winter business this. So the body would survive in the ground for a night or two. And that's exactly what happened here. Mr Lloyd, who was body snatched out of this graveyard in 1794, he was left two days. It was the second night after he was buried that he was dug up. We know about his case because the men were caught. They didn't catch the men particularly well because I think they got away. I don't think they were charged. But they saved the body. That's the key thing. So Mr Lloyd was reburied and I hope he's still under his stone which is just here.

Speaker: Ruth Richardson, historian
---
John Rixton - Charitable donor
c1579-1658
When I first become involved with the Parish in the 1960's I noticed in the Lady Chapel there were shelves for bread. Obviously there wasn't any bread put out in those days. But the origin of those bread shelves was that there were a number of charities associated with the church, formerly the Parish of Hampstead, called the Bread Charities. These were amalgamated into an umbrella charity, Hampstead Parochial Charities.
But the individuals who formed these charities leaving money to the Church were people such as Thomas Charles, who died in 1622 from Holborn, Thomas Cleave, who died in the 1630s and John Rixton which we want to make some mention today who had a Will dated 1657. He charged for copyright houses in Hampstead which I think were on the High Street and with annual payments.
There was £3 to go to the churchwardens to buy twelve penny loaves each Sunday for the poor and eight shillings was to go to the parish clerk to clean his grave and one pound was to go to the Minister to preach a sermon on Good Friday each year. And when I took over as Treasurer of the Parochial Charities were still making that pound payment to the vicar for that sermon on Good Friday.

Speaker:
---
John Vincent - Brewer and Publican
1664-1719
Milligan was sent out to the West Indies to learn about Sugar production...
Yes well the Vincents are very big in Hampstead history because they were a brewing family. John Vincent Senior who was born in 1664 when Charles the Second was on the throne. We know that by 1700 he had a brewery in Hampstead High Street. And there is still an elaborate archway in the High Street which you can see, which leads to what is now called 'Old Brewery Mews'. That was the brewery of the Vincents. Vincent also did a great favour to Hampstead. He brought the first piped water to central Hampstead form a very large pond which was near Burgh House, up the Well Road area. And this was piped water which he brought all the way to the High Street and that area. And of course it was also for his brewery. That's why he did it. But he spread this great benefit around and was a very popular man. His grandson, Robert, we know owned much property in the Hampstead area, particularly the High Street area. And two pubs certainly. At one time the family also ran Jack Straw's Castle, which was a pub. Alas it's closed now. But a highly important and historical pub up at the top of the hill by White Stone Pond.

Speaker: Christopher Wade, local historian
---
Joseph Jordan - Surgeon
1786-1873
This is the tomb of Joseph Jordon, up by the railing...
Ruth Richardson This is the tomb of Joseph Jordan up by the railing. You can see it from the road.
'To the memory of Joseph Jordan Esq, Fellow of the Royal College of Surgeons FRCS, Late of Manchester who died March 31st 1873 aged 87 years.'
So he led a good life.
'He was the founder of provincial schools of anatomy many years consulting surgeon to the Manchester Royal Infirmary also to the Lock Hospital of which he was one of the founders.'
A lock hospital is a hospital for sexual diseases, venereal diseases. So that was a very unpleasant subject for him to be expert in. but it was terribly necessary. That's very interesting that he was a person who could look at horrible things and look them in the eye. Interesting man. And it's erected by his nephew of Manchester. So the nephew paid for this thing to go in. And it's a big heavy tomb isn't it. He obviously ddin't want to be body snatched.
Interviewer Although it's a bit later isn't it?
RR It is it's after the Anatomy Act that he dies. 1873 is long after, forty years later.
I What do you know about Joseph Jordan?
RR All I know is that he founded an anatomy school in Manchester. He went out body snatching himself. He was prosecuted and fined for body snatching himself. But he wasn't badly treated. A fine is not a terrible thing to have. You just pay the money whereas often body snatchers, quite difficult things happen to them. If you stole a body it was not counted as property in law. It was counted as not being property. It belonged to God or belonged to the soil. And so you couldn't technically be done for body snatching. How they got prosecuted was for disturbing the peace or doing something contra bonos mores. You know these disturbances rather than actual theft. You couldn't be done for a theft associated with a dead body.
He is an interesting bod because he is reputed to have sent corpses to Edinburgh to Dr Knox. And of course Dr Knox he's the man who buys the bodies from Burke and Hare who didn't body snatch at all. They murdered people to get the money for their corpses.

Speaker: Ruth Richardson, historian
---
Kay Kendall Harrison - Actress

1927-1959
Glamorous British comedy actress, was the daughter of a vaudevillian star
Interviewee - Kim Campbell, sister of Kay Kendall Harrison Interviewer - Alan Dein
Interviewer It's intriguing about a theatrical family. What do you know about how that began, how that world of theatre, music hall, performance began in your family?
Kim Campbell Well it all started with my grandmother. Her family was Huguenots that came over to England. She was a child singer or something like that, that's what I remember. So it was natural for her to go into a theatrical family. And her name was Marie Kendall. And she married someone called Stephen McCarthy. But she always kept the name Kendall which meant that my father who was also in the theatrical business was Kendall and we were all christened Kendall. So that's how we kept the name Kendall. As I say with my grandmother being a star, and my father and his sister, they were a famous brother and sister dance team. And I guess it must have been in the20's. There were three very famous dance teams. There was Fred and Adele Astaire, there was Terry and Pat Kendall and there was Norma and Buddy Ebsen who were also very famous. So it was natural that Kay and myself would go into the theatrical business.
Kay was only 16 and she was working in a show that was going to be called London Town. She was one of the girls, you know, the glamour girls in it. They went round trying to find, there was Zoe Gale, all kinds of different girls that they wanted to have a leading part. And for some reason they gave Kay the part. So she was with Sid Fields, Petula Clark and all these well-known people. So there she is and there's pictures in the Mail, A Star is Born, these beautiful pictures of her and everything. Well it turned out it was the biggest flop in the whole world. It was really not a good film. So after that she didn't get any work. Anyway another funny part about Kay, she was in a show called, Black Velvet on Tour. She was one of the chorus girls. And somebody said to the lady who was the choreographer, 'Who is the lovely little girl that does the solo?' And they said, 'That's Kay Kendall. But she's not supposed to be doing a solo, she's supposed to be with the chorus.' But she was out there doing some of these right from the start you know.
I have to tell you we all had to have elocution lessons. Because we had a mixture of Cockney English and Yorkshire accent. Whatever it was. So both Kay and myself had to have elocution lessons. How now brown cow. I see the lily on the lake. All these kind of' We had to learn to proper as they say. But Kay always, you know, was going to be what she was going to be.
I Did she have any role models at that time? You said she loved film, she loved cinema. Did she see herself going on the screen? Or did she see herself more as a theatrical actress in those days?
KK No I think it was really on the screen. She didn't ever do any things in theatre. It wasn't until Genevieve that after years of not, five years she didn't work after London Town.
I Which was a flop. It just flopped?
KK Five years and of course she was ' 'Oh this is terrible!' All kind of thing. We lived at Talbot House and she said, 'I'm going to throw myself out of the window.' My mother and I would go to the window and say, 'OK it's about time.' Then she went to a cocktail party and met, I forget his name now, somebody who had something to do with David Lean and the theatre. She was asked to do Genevieve. That's really what brought her back again. I know Kay, she was under contract to J Arthur Rank at that time. And they had a big event before on the stage. I remember she had a beautiful evening dress on and she had big black socks on. Because she was so tall with the others. So she'd take her shoes off before she was photographed. She was always worried' she said she was five, eight and a half. I think she was five, nine, but she was very tall for that generation. And Kenneth More, who was one of her best friends, he was quite short. Anyway of course she never married until she married Rex. But of course she died at 32 so she didn't have much chance. Then she did go to Hollywood. It wasn't successful. She was there for some time. And then because after Genevieve the whole thing changed. So she had a wonderful career. Glamorous British comedy actress Kay Kendall, the daughter of vaudevillian star Terry Kendall, was born Justine Kay MacCarthy in Withernsea, Yorkshire in 1926. Her maternal grandmother was Marie Kendall, a musical-comedy star.
Kay Kendall made her film debut aged 19 in a series of bit-parts before Rank promoted her to a support role in the infamous London Town, notable for being one of the costliest flops in British film history. After this disastrous movie debut, she returned to repertory theatre and was abruptly shunted back into minor roles in films such as Jules Dassin's film noir 'Night and the City' and Ealing Studio's 'Dance Hall'. Redemption arrived in the shape of the car-rally classic Genevieve (1953), its gentle comedy allowed Kendall to display her sexy and humorous persona to full effect.
Still a Rank contract star, she returned to the studio's lacklustre 50s productions in cosy support roles including Doctor in the House with Dirk Bogarde. She began a romantic relationship with Rex Harrison after starring together in The Constant Husband, and they were married in 1957.
In 1958, Kendall won a Golden Globe Award for her performance as Lady Sybil Wren in Les Girls, the story of three showgirls in post-war Paris, and probably one of the best-known films of her career.
That year, Rex Harrison had learned from Kendall's doctor that she had been diagnosed with myeloid Leukemia, a fact that was kept from Kendall, who believed she was suffering from an iron deficiency. Harrison cared for Kendall until her death in 1959, at the age of 33, soon after completing her last movie, Once More with Feeling! with Yul Brynner. In 1973, the playwright Terrence Rattigan based his play 'In Praise of Love' on the relationship between Rex Harrison and Kay Kendall.
Today a special memorial to Kendall's life is open to visitors of the former Withernsea lighthouse, just round the corner from Kendall's childhood home.
Her half-brother, actor, Cavan Kendall who died in 1999, is also buried at this spot.

Speaker: Kim Campbell, sister
---
Lucy Aikin - Author

1781-1864
Champion of the Queen Anne revival in architecture...
Interviewee - Michelle Levy, Associate Professor of English at Simon Fraser University Interviewer- Robert Wilkinson
Lucy Aikin was born in 1781 and she died in 1864 at the age of 82. She spent most of that life writing and being associated with writers. She came from a literary family and a family of strong dissenters and a family with strong political views. Her father was a medical doctor and a farmer named John Aikin. She was very close with her father and her aunt was Anna Barbault, who was one of the foremost poets of the mid to late eighteenth century. Both of these influences we can see in her writing and in her life which, as I say was pretty much spent in writing. There's really not a genre of writing that Lucy Aikin didn't touch upon. She wrote books for children, she collected poems for children, she wrote her own pieces for children. She translated books. She wrote poetry, she wrote for periodicals and perhaps what she was best known for, were her three volumes of history. And she covered the reigns of Elizabeth, James I and Charles I. These were very, very highly regarded. So really the history writing, and a little bit earlier in 1810, a lengthy poem that she wrote called Epistles on Women Exemplifying their Character and Condition in Various Ages and Nations. That was the other literary work she was best known in her day. And this was a sort of feminist reinterpretation going all the way back to the Bible and giving a view of women historically through the ages. And this was quite unique both in terms of the way that she chose to tell this history and also what she had to say about it.
So the other thing that will probably be of interest is that Lucy Aikin has quite a long standing connection with Hampstead. She's obviously buried in the church here beside Joanna Baillie who was her great friend, who lived very close by. And after her father died she moved here. She spent many years, decades even, on Church Row within viewing distance of the church. And she moved away for a little bit and then she moved back to what was called John Street which is now Keats Row. So she was in Hampstead for decades, most of the latter part of her life. She wrote about Hampstead in some interesting ways. The 1903 book 'Sweet Hampstead' by Caroline White publishes a letter written in September 1845 by Lucy Aiken to Mrs. Mallett of Hampstead:
'I rather congratulate myself on not being in Church Row during the delightful excitement of this murder and the inquest, which appear to have had so many charms for the millions...but I think the event will give me a kind of a dislike to Belsize Lane, which hitherto I used to think the pleasantest way from us to you.' What Aikin is referring to is the murder of James de la Rue, who records show, is also buried at Saint John's churchyard, but nobody knows the actual location of his grave.
A report of the murder was published in 'Hampstead: Belsize and Frognal', Old and New London: Volume 5 (1878):
'On the 21st of February, 1845, Mr. James de la Rue, a teacher of music, was murdered by a young man named Hocker, close by the corner of Belsize Park, in the narrow lane leading from Chalk Farm to Hampstead. The lane, at that time, as may be imagined, was very solitary, seeing that, with the exception of Belsize House, there were no houses near the spot. The crime was perpetrated about seven o'clock in the evening. Cries of 'murder!' were heard by a person who happened to be passing at the time, and on an alarm being given, the body of the murdered man was quickly discovered. Hocker, it seems, had in the meanwhile gone to the Swiss Tavern, and there called for brandy and water; but on the arrival of the police and others, Hocker too appeared on the spot, inquired what was amiss, and, taking the dead man's hand, felt his pulse and pronounced him dead, and gave some bystanders money to help carry the corpse away... the murder was afterwards clearly traced to Hocker, the cause of it being jealousy and revenge, so far as it appeared, for his being supplanted by de la Rue in the affections of a young woman of Hampstead. On the trial Hocker read a paper endeavouring to throw the charge of the murder on a friend, whose name, of course, he did not disclose, and added an improbable story of the manner in which his clothes had become stained with blood. The reading of this paper only impressed the court and the crowd of spectators with an idea of Hocker's excessive hypocrisy and cold-bloodedness. He was convicted and executed.'
Thomas Hocker, 21, was tried at the Old Bailey and hanged on Monday, April 28th, 1845, outside Newgate Prison before a crowd of 10,000.

Speaker: Michelle Levy, Professor of English, Simon Fraser University, British Columbia
---
May Sinclair - Novelist

1863-1897
'For the last week he had been what he called settled at Hampstead. The charm of Hampstead was that nobody whom he knew lived there...'
Mary Amelia St Clair (May) Sinclair was born on 24th August 1863 in the affluent suburb of Liverpool's Rock Ferry. Her father was a ship owner, transporting cargo across the globe. May, who was the last child in the family, had five older brothers. Her mother favoured her sons and brought them up 'to regard themselves as entitled to all the luxuries to which gentlemen were privileged'. In contrast, May was kept 'religiously orthodox and femininely unintellectual and docile'. May not only turned out to be something of a tomboy but, like her father, she loved books and he gave giving her unlimited access to his extensive library.
By the time May was eighteen she had taught herself French, German and Greek and had read voluminously, from Shakespeare's comedies, Milton's Lycidus and Paradise Lost to three volumes of Euripides, and the Greek Testament.
In 1870, her father went bankrupt, and May's parents appear to have gone their separate ways. Her mother seems to have had a small private income, and managed to maintain a life of 'genteel poverty'. But her father descended into alcoholism, and a lingering death. May's mother agreed to send her for a year to Cheltenham Ladies College, where she had formerly been a pupil. There the principal, Dorothea Beale, was able to reassure May that: 'she could think and write lucidly; but she could not grant a desire that was nearly as strong as her hope: to be fully liberated from her mother's orthodoxy'.
Her primary objective in writing was to earn enough money to support herself and her ailing mother. She published her first book, a volume of poetry entitled: Nakiketa and other Poems in 1886. But as time went by her literary focus turned from poetry to prose. Her first novel: Audrey Craven was published in 1897. This was praised by the novelist George Gissing, who wrote to May that it exhibited an 'artistic conscience and more than the beginning of artistic powers'. During this time May and her mother moved to 13 Christchurch Hill, Hampstead. May loved living near the heath because she was at her happiest in the open air.
May's mother died in 1901. By this time May was an established author, and her third novel, The Divine Fire, published in 1904, brought her success not only at home, but also abroad in the United States. In 1905 May set off on a tour of the East Coast of America 'to meet her readers and prominent American literati'. After her return to England May returned to Hampstead, renting rooms at 8 Willow Road. Willow Road provided a backdrop for her novel The Creators (published 1910), as the rooms occupied by the male protagonist, George Tanqueray (who is seemingly based on May's literary admirer, George Gissing) are obviously located there:
For the last week he had been what he called settled at Hampstead. The charm of Hampstead was that nobody whom he knew lived there.
He had chosen the house because it stood at a corner, in a road too steep for traffic. He had chosen his rooms because they looked on to a green slope with a row of willows at the bottom and a row of willows at the top, and because beyond the willows, he could see the line of a low hill, pure and sharp against the sky. At sunset the grass and his slope turned to a more piercing green and its patches of brown earth to purple. He looked at the sublime procession of his willows and reminded himself with ecstasy that there was not a soul in Hampstead whom he knew. And that suburb appeared to him an enchanted place where at last he had found peace. He would stay there for ever, in those two rooms.
In 1913 May was introduced to the poet Charlotte Mew, who fell in love with May ' a sentiment that was not reciprocated on May's side. Except for a short and unsuccessful period as an ambulance driver in Belgium during the First World War, May lived in St John's Wood for the rest of her working life. But as Parkinson's disease began to take its toll upon her mind, on the advice of her doctor, she moved with her devoted maid and companion Florence Bartrop to Bierton near Aylesbury. May Sinclair died on 14th November 1946 at the age of 83. According to her wish, her cremated remains were buried in Hampstead Churchyard.
Text by Christine Pullen
---
Nathaniel Booth - Politician
1710-1770
He was a prominent Whig, and the surveyor of the 'Green Wax Money'...
Nathaniel Booth was born in 1710 and he was a prominent Whig politician whose appointments included the Surveyor of the Green Wax Money which was a curious form of fine. Now interesting that from 1743 he lived with his family in Burgh House. That's the community arts centre in New End Square. Then he became the fourth and last Lord Delamer. That's when he left Burgh House in 1758. Now there's an elaborate inscription on the tomb which says that:
'After a long illness which he bore with incredible patience, he died as he had lived with the upmost calmness and composure.'
Now it's very hard to read that now but there are some poignant poems on the tombstone which you might be able to read, including one about two of his children. A poem which you can read on the north face among all those swacks. I'll read it to you. Written in 1757 to a son and a daughter:
Rest undisturbed ye much lamented pair The smiling infant and the rising heir Ah what avails it that the blossom shoot In early promise of maturer fruit If death's chill hand shall nip their infant bloom And wither all their honours in the tomb Yet weep not in life's allotted share Swift fled their youth they knew not ages care
The tomb has been beautifully restored quite recently. All it lacks now is, originally it had an urn on the top. What you won't be able to recognise are the eagles and the lions which are carved and they have been worn away so much that you can hardly see them. But it's a tomb well worth visiting.
Of course he used to live at Burgh House so he'd been in Hampstead for many years. And he wanted to stay in Hampstead and he wanted his family, many of whom were born in Hampstead at Burgh House, he wanted them all in the same tomb. So this became the big family tomb. And he was an important man so he had to have an important tomb.

Speaker: Christopher Wade, local historian
---
Norman Shaw - Architect

1831-1912
I rather congratulate myself on not being in Church Row during the delightful excitement of the murder and the inquest
Underneath the large yew tree in the south eastern part of the old churchyard is a very important monument to Richard Norman Shaw. Possibly the outstanding architect of Victorian England. This monument is actually a copy of an eighteenth century monument in Painswick Churchyard in Gloucestershire, in the Cotswolds. So Norman Shaw had clearly seen a drawing of that monument and said, 'Um what a marvellous design. I'd like one of those when I die.' And his clerk, a very important architect himself, named Ernest Newton, made sure that that came to pass after Norman Shaw's death in 1912. This wasn't the first monument that the Shaw family had built in Hampstead Churchyard. They came down from Edinburgh shortly after Norman Shaw's birth. Their roots were laid down in this town. Norman Shaw's older brother became a very successful owner of a shipping company. Norman Shaw built for them a rather elegant Gothic ledger slab, a very height of fashion in the 1860s. By the time Norman Shaw died in 1912, he actually wants to replace it with something classical, something very traditional indeed based in this case on the Cotswold exemplar. So it's a very interesting story about how people's tastes change from a very Gothic revival state of the art monument of the 1860s to 50 years on something very different.
Because this monument is situated underneath a yew tree you get an awful lot of acidic run off. The berries fall on the tomb and acidic dripping has actually caused a lot of damage to this monument. So it's very happy to be able to say that this is a nice modern example of people looking after tombs. Norman Shaw's biographer is a man called Andrew Saint and spent £5,000, some of which came from the Royal Academy of Arts on the restoration to this tomb. They've recut the armorial panels, recut the inscriptions extremely cleverly. So it's lovely to be able to record that cultural care is still actually happening. And I think it's also a delightful tribute to the subject, an eminent man like Shaw by his biographer ' really nice.
Norman Shaw was born in 1831, died 1912. His career really gets going in the 1860s when he sets up in private practice with a man called Nessfield. Norman Shaw goes through several stages in his work. His great contribution to high Victorian architecture was the rediscovery of the native tradition of English house building. In the 1860s he went on a very important tour around Sussex spotting how the brick and tile and timber buildings of the Weald in Sussex, what sort of style they were and working out how he could apply that vernacular language to building the Victorian house. And if you look around here we can actually see the chimney of his house in Airedale Road. Just down the hill in Frognal is the house he designed in the early 1880s for the illustrator Kate Greenaway.
So these houses were hugely influential in late Victorian domestic architecture. They're asymmetrical. They use brick and tile and timber a lot. They replicate historic features like porches and prominent chimneys. Very, very carefully designed inside. Intricate and interwoven spaces within. Vey interesting. As architects sometimes do, Norman Shaw's style changes during his career. He never entirely gives up on the domestic sorts of buildings. But he moves on to a grander manner later on in his life. More classically inspired. The really famous example of that sort of house is in Dorset at Bryanston, now a school, near Blandford Forum. The final building worth citing is the New Scotland Yard, off Whitehall. That stripy streaky bacon style with bands of stone and brick. These very prominent corner towers looking like Scottish medieval architecture. That's probably his biggest public building.

Speaker:
---
Overview of Church

Roger Bowdler: It's still an incredibly picturesque churchyard. It occupies this wonderful sloping site. And it would have had these fantastic views outwards. So you're on top of the hill, the famous sweet airs of Hampstead, these marvellous views, fast moving clouds above. It is a delightful spot in the shade of the great big brick church. So just as Hampstead becomes a good place to retire to, it's also a fine place to elect for your permanent resting place. And if you go round the old villages of Middlesex ' Hampstead, Hendon, Finchley, you get a sense of people coming up from out of town to be buried there as a good mellow rustic, rural, tranquil resting place. Very interesting compared to the cacophony you'd associate being down the hill in town. It's a very interesting contrast.
Interviewer: Did that change at all with the building of Highgate, Kensal Rise that sort of thing by the mid nineteenth century?
RB: It changes enormously. But early on the cemeteries are trying to create the Beaux Ideale of a country churchyard. The problem is they have these urban churchyards have to cope with so many thousands of deaths all the time. So the odd introduction of a burial every year or so, which was the case in lots of country churchyards, completely impossible to do in an urban churchyard. These were busy places with burials happening every day. So when you get the commercial cemeteries like Kensal Green, like Highgate from 1833 onwards, it's when Kensal Green opens. You're trying to emulate a romantic tranquil decent, dignified form of a garden of death. That's what they're after. But the actual monuments they're erecting in those cemeteries are very much inspired by the ones that late Georgians were putting up in churchyards.

Speaker:
---
Overview of Churchyard
Christopher Wade Yes St Johns Church was the place to be buried because it was the place to worship. There were no alternatives in the seventeenth century. And so people would naturally come to the church and naturally be buried there afterwards. That was all types of persons, all religions and all ages and sexes available to be buried there. Obviously you had to pay for it but otherwise it was available when you wanted it
Interviewer So St John's Church itself didn't distinguish between those people who could be or couldn't be buried in the churchyard? It's whoever could pay.
CW Well there were paupers graves, as there were everywhere, where you were just shoved in the ground and no stone was put up. But if you wanted a decent stone of any sort of course you had to pay for it. And your grave would then become more obvious. Many of the burials have just disappeared.
I As the years progressed, obviously as Hampstead grew, I presume there was much more of a demarcation between those people that could be buried in the churchyard and those that couldn't?
CW I think there was. In the eighteenth century we got many other denominations in Hampstead, Quakers and Methodists, Unitarians. They all had their own chapels. Many of them went to be buried in some sort of special denomination or churchyard elsewhere. So there was less use of the parish churchyard.
I And also I presume by the late nineteenth century and even into the twentieth century I presume just because you lived in Hampstead you couldn't just be buried in St Johns. It seems to me you would have to have a particular position in Hampstead society or involved in the church. It wasn't for everybody?
CW I think it was very much for everybody who could pay. Certainly for everybody who perhaps have good connections with the church. But it was very much open to everybody. You see all sorts of professions and quite a lot of servants, as you know, buried along with their masters, which was probably paid for by the masters. But there's a very good cross section of upper class, middle class, working class throughout the graveyards - old and new.

Speaker:
---
Philadelphia Hancock & Eliza Austen - Hancock was Jane Austen's aunt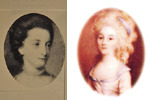 1730-1792 (Philadelphia) 1761-1813 (Eliza)
Philadelphia Hancock was Jane Austen's father's sister...
Interviewer: The question I must ask Maureen is how are these people related to Jane Austen
Maureen Stiller: Philadelphia Hancock was George Austen, Jane Austen's father's sister. So that was her aunt. Eliza - Elizabeth Austen, was her cousin because that's Philadelphia's daughter and Hastings was Elizabeth's son, and therefore Philadelphia's grandson.
I: To put these dates in perspective, Jane Austen herself what are her birth and death dates?
MS: She was born in 1775 and she died in 1817.
I: What do we know about Philadelphia Hancock, Elizabeth Austen and Hastings?
MS: We know that Philadelphia went to India when she was 22 to get married to Tysoe Saul Hancock. We know that Saul Hancock had to go back to India to earn more money to keep them in the style that they had become accustomed to in London. Eliza, we know Eliza was born in Calcutta. She came back when she was about four years old. She didn't go back to India. They went to France when Eliza was 18 because they couldn't really afford to stay in London anymore. And she married a Frenchman who purported to be a Count but he was rather impecunious. They came back to London. We know that the Count went back to France to try and get some of his property back, but that was in the middle of the Revolution and unfortunately he lost his head. So when Elizabeth came back to London she often used to go and stay with Jane Austen's family in Steventon and had a dalliance with the older brother, James and took the fascination also of Henry, the younger brother who was ten years her junior. And they actually ended up marrying in 1797.
I: What kind of relationship do you think that Jane Austen had will Philadelphia?
MS: We know that she was fascinated by Eliza certainly. Because Eliza had come back from France. She'd been mixing in circles much higher than might have been expected. She'd seen the King and Queen at Versailles. So she came back with very sophisticated French manners and dress. Being this rather gorgeous, sophisticated creature you know she absolutely captivated Jane. I know that she was very fond of her till the end of her life. We know that they were living in a variety of smart addresses in London. They moved around a bit. And also went to rent a cottage in Surrey. They went to stay with the Austens in Steventon. I can't say why they were particularly why they were in Hampstead or why she was buried here.
I: What do we know about Hastings? It's a wonderful name Hastings Capot de Feuillide.
MS: Poor little Hastings. He didn't live very long. He was named after Warren Hastings who was Tysoe Saul Hancock's trading partner when they were in India. Hastings had set up a trust fund of £10,000 for Philadelphia which gave £400 income in order to keep them when they were in London and also to give Eliza a dowry. Capot de Feuillide was the name of Eliza's husband. So that's how he got the name Capot de Feuillide.

Speaker:
---
Philip Fenton - Merchant
1735-1806
In 1793 Philip Fenton decided, I think possibly because of the unrest in Europe, to retire and come back to England...
In 1793 Philip Fenton decided, I think possibly because of the unrest in Europe, to retire and come back to England. He lived in Fenton House until he died in 1806 with his nephew. He never married but had taken his nephew James as his partner in work and also as his heir. Because James inherited the house afterwards and presumably what money there was. James had married the daughter of Philip's partner John Cumming in Riga and when they came over the family eventually settled in the house in 1796. There were seven children and three adults living in the house which must have made it a little bit tight. It's not a very big house. But I suppose the children were all in the attic and Philip and James and Margaret on the first floor. We know that they lived a very active social life with seven teenagers; you could imagine they would do. They went to parties at the Mansion House.
Obviously James and Philip and their uncle John kept up their connections with the Baltic Exchange which would keep them in with the Mayor and the Lord Mayor. I gather they were importing almost anything. Carriages, things that were made up and presumably things like timber and furs would go from Riga, which was then in Russia back to England. Philip the second as it were, James's son, would have been 16 when he came to England. He'd lived in Riga all his life. That was his home. The probably spoke German as well as English. So he might have felt a little bit out of it when he came to Hampstead. Because he must have gone back I think within four or five years perhaps to Riga. Because he married there and had some of his family there.
So Philip and James and Margaret lived in Fenton House. Philip died in 1806. James and Margaret Fenton went on living there until she died and then he died in 1834. James Fenton seem to have made quite an impression locally. They had a lot of problems in Hampstead at this period with the Lord of the Manor who wanted to dig up the Heath and develop the Heath. And the local bigwigs didn't want this. And James was one of the people who called meetings and that sort of thing to go against Thomas Maryon Wilson. Perhaps the house was called Fenton House after James because of this involvement locally.

Speaker: Sheila Wilson, Fenton House Volunteer
---
Robert Milligan - West India merchant

1746-1809
The Vincents are very big in Hampstead history because they were a brewing family...
Milligan was born in about 1746 and not being the eldest son of the family, like many families in the mid eighteenth century, the boys had to go out and find their own fortune. And Milligan, like many others, was sent out to the West Indies to learn about sugar production, plantation ownership etc. And so really the first reference that we have to Milligan is when he's appointed to the Kingston Chamber of Commerce in about 1779. Obviously having made a success of himself as a sugar planter, or plantation manager, or exporter of sugar and goods like that from the West Indies. Having made a success of himself and again like many young men of this period obviously, either got sent back to London, or decided to come back to London with the capital he'd accrued. And he's back in London by about 1780 setting himself up as a very successful importer, mainly of sugar from the Caribbean.
He goes into partnership with a number of other people. He again marries into the sugar industry. He actually marries the niece of a very well-known plantation owner called Duncan Davidson. These are all Scots. There's a sort of big Scottish clan in London and they are all associated with the West Indies trade. By the early 1790s he's obviously been drawn into a very, very powerful group called the Committee of West Indian Merchants and Planters. Now this is a sort of ad hoc pressure group that basically looks after the interests of the sugar industry. Bear in mind by 1800 sugar is the most valuable commodity coming into Britain. Lots and lots of money in it. Lots of wealth. In terms of this particular committee a huge amount of power because they've got MPs in their pockets etc, etc.
By the early 1790s he's involved and very active in this group. They're lobbying the Government; they're lobbying about better taxation rates and customs duties for sugar importers. The West India Committee, bearing in mind this is a committee of West India merchants and plantation owners, and of course in their minds the whole economics of the West India trade was dependent on enslaved labour. They simply couldn't see it working without an enslaved labour force. So the first thing they did as soon as they heard that a Bill was going to be put before the House to move for the abolition of the slave trade, is that they started putting together active speakers and putting funds together to actually prevent the abolition of the trade. Because they thought basically it would result in higher production costs therefore cuts in profits at the market and things like that. So from their point of view largely an economic issue but of course underneath all that is the whole psychology of racism which underpinned the slave trade and slavery itself.
Now one thing you have to be slightly sort of careful of when we are talk about Milligan. Because there's a tendency to lump Milligan in with the other slave traders. Because some of the other members of the West India Committee were literally slave traders. Milligan was actually there as a sugar importer. Now you could argue that if he is running a plantation in the West Indies in Jamaica which he was for some time, he is going to be buying slaves. So from that point of view he is involved in the slave trade. But he's not directly involved in the slave trade from the point of view of buying enslaved people on the west coast of Africa, shipping them across the Atlantic, and things like that. There's an involvement but it's not as involved as people like Camden, Calvert and King who were major slave traders and also major investors in the West India Docks.
The statue of Robert Milligan, which was commissioned by his sort of grateful fellow dock directors, was on the West India Quay almost within a year of his death. And stayed there really up until the 1980s when the West India Docks closed. And there were concerns about possible damage or theft etc. It was owned by the Port of London Authority. So it went into store. In the late 1990s the plinth was restored and refurbished and a new sort of plaque made for it and it was reinstated on the West India Quay outside the Museum's front entrance.
And of course the other place where he's commemorated is on the foundation plaque, which is the huge stone monument at the end of the building. And his name is on there as well.

Speaker:
---
Royal Soldiers Daughters - Pupils at the Royal Soldiers' Daughters' School, Hampstead.
It was in Rosslyn Hill, founded in 1855...
Singing
Interviewer: If I go round and ask everyone just to say their name that would be brilliant.
Nickki, Linda, Yvonne, Susan, Ann, Sandy.
I'm really keen to find out from you all is why you come here and your connection here with St Johns. Just tell me a bit about the school.
Nickki: It was in Rosslyn Hill. It was called the Royal Soldiers Daughters School. It was founded in 1855 originally for the daughters of the soldiers who were killed or serving in the Crimean War. Founded by a well to do gentleman who saw young girls on the street either begging or making themselves available.
I think generally all of us felt we needed to really treat the vaults and the graves of the children and young women that died as a mark of respect. Because obviously they've got old and mouldy and they look like they're unloved. We felt collectively we really wanted to clean them up and perhaps be a bit mindful about why we all came together at the RSD and the connections that we had with the girls that have died. I think that it's probably highly relevant at this point because of the' you know there's wars going on now that we feel really strongly about. A number of us have got on-going military connections. And quite often the girls and young women are the ones that get lost. So it's a number of reasons why we're here.
I: Can you tell me a bit about the school itself and obviously when you attended the school?
Well I started in 1956, the day after I was five years old. I went because my father died when I was four and my mother had to take on a job. She went into nursing. There was no-one to look after me. She felt I would get a stable education. So that's why I started there.
It was called a school because originally, as you can see by the graves, some of the teaching staff were also students in the school. And the school primarily in the 1800s and 1900s, and actually till quite late, used to tutor the girls there to become house servants or to do fairly menial domestic work.
And I think we only found the graveyard by coming back and doing this didn't we? By meeting up as a reunion rather than ' well certainly for me realising the graves were here. Yvonne and I were just chatting and we were saying that we could remember coming out of a church service one summer, I remember it distinctly probably about 1964, 65. And standing round one of the graves and just trying to think about why the girls had died.

Speaker:
---
Sarah Marden - Servant
1787-1860
She was a servant to the Hoare family...
Christopher Wade She was a servant to the Hoare family. The Hoare, H-O-A-R-E, family were very big in Hampstead. They had a large house up by Whitestone Pond called Heath House. And Samuel Hoare was a Quaker banker and very rich. And had a large family. And he was very influential in for instance with Wilberforce and his anti-slavery campaign. Samuel Hoare was a very big name in support. No doubt they looked after their family and their servants very well.
Interviewer But quite rare for a servant to be buried next to their employer?
CW Yes I think it was perhaps unusual that the servants wanted to be buried there. Perhaps they had no choice. But a lot of servants I would have thought would have gone back to their families were, probably in the counties and not wish to be buried in somebody else's grave.
I It's unusual but perhaps in a way a good hint at the this incredible cross section of community that would exist in Hampstead. You know in a way quite egalitarian, quite progressive in its range of occupations, of people.
CW Yes the Hoares were a particularly good example of rich people who took an interest in the community. They were rather like the squires of Hampstead. They looked after the young people and poor people. They were Quakers so they had their own particular worshipping. But they did look after the community with great care.

Speaker: Christopher Wade, local historian
---
Sir Herbert Beerbohm Tree - Actor-manager, founder of RADA

1853-1917
Herbert Beerbohm Tree who founded RADA was really the last of the great actor managers. To try and see him in 21st century terms you have to imagine somebody like Andrew Lloyd Webber who could act...
Herbert Beerbohm Tree who founded RADA was really the last of the great actor managers. To try and see him in 21st Century terms you have to imagine somebody like Andrew Lloyd Webber who could act. He was a leading man who ran his own Company but also built his own theatre. And the theatre that is now Her Majesty's in Haymarket, London, he built in 1887 as one of his own places for his own Company. He was the son of a German immigrant called Beerbohm who was a very successful businessman. He didn't go into the theatre until he was 24 and the story is that he called himself Beerbohm Tree because it was easier for audiences to stand and shout out rather than saying Beerbohm, Beerbohm! they could shout Tree, Tree! as they applauded him. It has to be true. He started acting, not until he was about 25. At 34 he ran his own Company. At 44 he built His Majesty's Theatre, Her Majesty's Theatre as it then was in the Haymarket. And it really was the most remarkable, glamorous centre of a very, very vivid period in London Theatre.
Tree had established himself as a considerable Shakespearean actor. He was responsible for a big Shakespearean revival with massive, massive productions. At the same time he was commissioning and mounting plays from the likes of George Bernard Shaw and Arthur Pinero. And being very innovative. But he became aware that just needed more and better actors. And decided that Britain had to have an Academy of Dramatic Art, rather than just the odd actor doing the odd lessons. He tried to get support. There wasn't any so he found it himself. And in 1904 he launched the Academy of Dramatic Art in his own theatre. For the first year the classes were held in His Majesty's Theatre in the Haymarket. It was only later, a year later that the he found the family house as it was in Gower Street, Bloomsbury where he moved 200 students into a family home and taught them. That is still where what is now the Royal Academy of Dramatic Art is based. Tree didn't live to see the Royal Charter granted. His was the Academy of Dramatic Art but he always knew that's what he wanted. He wanted to have the prestige of the royal title because for him it helped establish the prestige of the acting tradition. Although he was knighted in 1909 he was only the second actor after Henry Irvine to be given a knighthood. In those days to be an actor or actress was not necessarily the most respectable of things. So they were very, very proud of being seen to be respectable. And as a producer and director he went for the big realistic thing. When you went to a show at Her Majesty's you went to a show. The classic occasion was in a production of A Winter's Tale when, because it was set in a sylvan glade, there was a stream running, bubbling water, running across the stage. For The Merchant of Venice he recreated the Jewish Ghetto in Venice onstage./
If necessary he put in a few extra bits. In King John, not one of the most exciting of Shakespeare's plays, he put in a scene which he signed the Magna Carta. He was very much the Victorian/Edwardian gentleman in style, as indeed they all tended to be whatever their private lives, your big actor saw himself as a big public figure. At the time when RADA was launched by Tree in 1904 he was not only running Her Majesty's Theatre having built it seven years earlier he had five touring companies in Britain and to crown it one in Australia. This is a man with huge energy and huge talent and able to keep a lot of balls in the air at the same time.

Speaker:
---
Sir Michael Perrin - William Perrin 1848-1934, Bishop of British Columbia, later the first Bishop of Willesden

1905-1988, Scientist
My grandfather, William Willcox Perrin was the first member of the family to be buried in this grave
Charles Perrin, my grandfather, William Willcox Perrin was the first member of the family to be buried in this grave. He was born in 1848 in Gloucestershire. He was educated at Kings College, London and then Trinity College, Oxford. He was ordained by Bishop Samuel Wilberforce and having been Vicar of St Luke's Southampton, was asked to be the second Bishop of British Columbia in 1893. His sister went with him to act as it were as housekeeper or whatever one would call it.
He came back to this country on leave in 1903 and married my grandmother in 1904 and went back to Canada. It was there that my father and his younger sister were born - my father being born in 1905. I know that he was the second Bishop of British Columbia. It was a big diocese and I know that he travelled extensively. The famous Klondike Gold Rush actually took place in 1897/8 while he was out there, and there's some very interesting accounts which he wrote of life in British Columbia and of the Gold Rush which passed through Victoria, which he sent back to the missionary societies and others in London at the time.
Obviously it was before the Panama Canal was opened and therefore all his furniture I do know had to be sent by sea round the Cape and back when they came back in 1911 when he was asked to come back to be the first Bishop of Willesden. And lived first in Frognal Gardens and later in Lyndhurst Road. When they were in Frognal Gardens, and my father and his sister were young, they used to sit in the front row on the left in the parish church under the pulpit and were slipped out by the side door before the sermon started. He retired as Bishop of Willesden in 1929 but he did retain charge of the Hampstead Deanery until his death in 1934. And his funeral was in St Stephen's Church which of course is at the foot of Lyndhurst Road. But then he was buried here in the parish churchyard. I do remember him sometimes talking about schoolboy experiences. For example he was fag to Douglas Jardine who became captain of the famous 'bodyline' Test series against Australia. And Jardine was already captain of the school eleven. And his competitive instincts were already there. I always remember my father saying if the school team won he was given a slice of cake, and if the school team lost a match he was beaten.
He certainly specialised in science at Winchester and did get the first science scholarship to New College. At New College he read chemistry. From there he went to Toronto University for a year to study for an MA in high pressure physics. From Toronto he went to work for ICI. But he was sent by ICI to work with Professor Michels in Amsterdam University for a year. Because Michels was also doing work on high pressure physics which was being subsidised by ICI at the time. So he was there until 1933 when he came back to work for ICI in this country.
If I go back to 1932, he and the deputy research director at ICI's research centre in Winnington presented a paper suggesting a research programme on the effect of high pressure on chemical reactions. And it was decided that this research should be done at Winnington under two individuals called Gibson and Fawcett, which did actually result in the very early polythene. But at the time little importance was attached to this discovery. So the research was abandoned. Two years later when my father had come back to this country he was put in charge of high pressure research. And he set up a new experiment with newer and better equipment which did actually result in the first polythene as we now know it. So I think I' m right in saying that he's on the patent application. Therefore it was my father's name which was the first of five, including Fawcett and Gibson's.
And my father then spent a lot of time understanding the potential for polythene and trying to scale it up so that it became a commercial opportunity. It did in time become the world's most widely used plastic. Perhaps most familiar as a packaging material. But in the earliest stage it was of considerable importance as an insulator for radar equipment which of course was key during the early stages of the War. Whether he could possibly have foreseen the amount of polythene which would be used in subsequent decades I don't know. But he certainly saw the opportunity. If my father had foreseen just the way it is allowed to litter everywhere he would have been quite horrified I'm sure. We have a happy memory of him when he was much older and my two daughters were young. He was staying with us on a picnic and trying to unwrap a packet of sandwiches or something which had polythene cling film round. And he was a bit old and clumsy at the time. And we have a delightful memory of him totally unselfconsciously muttering, 'Damn I do wish I never invented this stuff!'

Speaker: Charles Perrin, son
---
Stephen Guyon - Huguenot refugee
1707-1779
My name is David Guyon, and I'm the Great, Great, Great, Great, Great, Grandson...
My name is David Guyon and I am the great, great, great, great, great grandson of Etienne Guyon who is buried in the tomb in front of you. Etienne was a French Huguenot, that is a French protestant. His father had walked from Montpelier to Geneva in order to escape persecution at the age of about 16. He joined up with other Huguenots into the Army to fight his former country, the French, in northern Italy under the English Crown. His eldest son was Etienne; in fact he was christened Noe Etienne. So in English that would be Noah Stephen Gion spelt with an 'I'.
He somehow managed to find his way to Hampstead where he made his fortune and did extremely well. In 1735, in common with lots of other French immigrants to England, he married a French lady Elizabeth Lacot. Her father was a rich merchant in Westminster and Soho. By 1766 we come across Etienne Guyon, as he has now become, in a parish council meeting. By then owned Frognal Hall, which is a rather imposing building to the west of the church. And unfortunately he had a public footpath running right past the front door. So he was attempting to get that changed. But judging by the current route of the footpath, it looks as though he failed.
And in 1771 he paid £50 for his pew in Hampstead Church. So in other words that's a pretty hefty donation towards the cost of the church. Because the church, although built in 1735, they continued to add such things as a spire, clock and bells afterwards and his money was well received there. In 1773, unfortunately for Stephen as he's now become, his beloved wife, Elizabeth, passed away and was buried in the tomb in front of you. In 1776 Etienne made his Will from which we can realise that he was really quite a wealthy man. He left anything between one and a half and three thousand pounds to each of his four surviving children. All his plate and his diamond ring went to his eldest son and all the residue of his estate was to be divided equally amongst his children. And he died and was buried in the vault on the 5th December 1779.

Speaker:
---
Temple Moore - Architect
Temple Moore was born in 1856 at Tullamore, Ireland to a military family. He was articled to George Gilbert Scott, Jr. (also buried at Saint John's) from 1875 to 1878 and stayed with him as his assistant. By 1890 he had established his own practice and continued working until his death in 1920. In 1919 he went into partnership with his son-in-law, Leslie Moore, and the practice took the name Temple Moore and Moore. The vast majority of his work was spent designing Ecclesiastical Architecture. This included work on Saint-John-at-Hampstead. In 1912 he designed a new choir vestry and extended the Lady Chapel. He also designed the adjacent War Memorial. Most poignantly one of the names recorded on it is that of his own son. Temple Moore died in 1920.
---
Thomas Ainger - Vicar
1799-1863
In the early 1850s, Ainger organised the Dispensary for the Sick Poor in New End
Down in the south east corner of the churchyard, very close to John Constable's tomb is one of the latest monuments in the churchyard. Extremely interesting memorial to the Reverend Thomas Ainger who died in 1863. He was for 22 years parish priest of Hampstead. This monument was erected by other clergy who'd served with him, which I think is a tribute just to what marvellous sacred esteem he was held by other clerics. This is a really interesting Gothic revival monument. It consists of a granite ledger slab surrounded by very elegant matching wrought iron railings. Now this slab is designed to emulate high medieval tomb covers that the Victorian archaeologists and antiquaries were rediscovering and publishing as inspirations. Now this one's got a cross on a stepped base along the centre of the slab on top. And if you look either side of the middle of the cross you can see inscribed very gently, on the left hand is the Holy Bible. And on the right hand is a chalice and a paten the vessels used for Holy Communion. So those are the tools of a priest's trade if you like and are copied from the imagery you find from medieval monuments that survive to us in churches and cathedrals.
So here you've got a very revivalist sort of monument. But there's also a modern streak to this tomb as well. It's made of this lovely granite. That granite was fantastically hard to work. And it wasn't really until round about 1830 that you started to get steam driven power tools that could cut great big slabs of granite like that and then polish it. So suddenly this really dense material became more workable. So though it looks like an utterly medieval sort of tomb, it's actually very nineteenth century. It's a lovely fusion of revivalism and antiquity alongside cutting edge technology.
What's lovely about this tomb is that this is the outdoor monument to Ainger. Inside the church is a gorgeous wall monument designed by the great architect, Sir George Gilbert Scott that's very Lombardic and richly Romanesque in its detail. It's a lovely, lovely monument. That was the indoor monument put up by the parishioners. This, the outdoor monument, which was paid for by fellow priests, is very expressive of Ainger's role in High Victorian Hampstead, a forcible man of the Church, drawing on the revival of piety that you get in early to mid-Victorian England. So this monument is the perfect embodiment of his faith and that desire to recapture the piety of medieval England, but this time in an Anglican form.
I think he's very lucky in the place that was chosen for his tomb. He's flanked on either side by other mid Victorian monuments. Both have got crosses, slightly different in style to Ainger's. It does feel like a particularly holy corner. It of course gets a lot of passing trade because it's on the way to see Constable, but best of all perhaps, it's in one of the sunniest parts of the churchyard. And we know that just over the wall you would have been able to see marvellous views over West London, down towards the Thames Valley and the Surrey hills beyond. So in sense this spot is almost like pole position.

Speaker:
---
Thomas Gardnor - Hampstead property owner
1685-1775
With its large Portland stone mass, this is the most ostentatious of all tombs in the churchyard...
With its large Portland stone mass, this is the most ostentatious of all tombs in the churchyard. The unusual hollow upper form is lyre-shaped, and Baroque in character: it shows how masons were trying out new forms to create a grander sort of outdoor tomb at this time. The date of 1775 refers to the date of death of Thomas Gardnor who erected it - but it looks earlier, so Thomas Gardnor may have constructed it during his life-time. He died aged 91. Text by Roger Bowdler, English Heritage
---
Thomas Mitchell - School master
1751-1799
Has three inter-linked triangles on his headstone, signifying that he was a member of the Hampstead Philo-Investigists
A local school master, has three inter-linked triangles on his headstone, signifying that he was a member of the Hampstead 'Philo-Investigists'.
According to Thomas Barratt's 'The Annals of Hampstead' published in 1912:
'In 1781 certain well-disposed Hampstead gentlemen, grown weary of the eternal wrangle which pervaded ordinary intercourse in those days, when politics, religion, and social affairs presented so many matters for disputation, formed themselves into an association with the kindly aim of detaching themselves from discord of every sort, and meeting just as friends. They called themselves Philo-Investigists ' that is, Lovers of Investigation and the usual form of address by one member to another was 'Brother Phil'. Their symbol was a combination of triangles, circles and stars, suggesting an astrological chart, and embodying the motto:
Study to follow Nature's Law's, From each Effect to trace a Cause; Nature and Art a Fund supplies To make men moral, good, and wise.
The members set themselves the task of 'keeping within the bounds of temperance', of avoiding 'light, trifling, and too often obscene discourse', and of introducing only 'useful subjects, or topics of conversation that tend to improve the understanding and mend the heart.'
In addition to becoming a benefit society, in 1787 the Philo-Investigists established Hampstead's first Sunday school for poor children of the locality, and provided its scholars with 'hats and bonnets, and shoes and stockings.'
At the time, there was no compulsory education, and most schooling cost money. Children from poor families worked long hours at paid jobs and had neither money nor time for education. This problem was addressed by opening Sunday Schools where local children received religious instructions, and learned how to read.
From this institution grew the Hampstead Parochial School in 1790 ' housing 120 pupils, and with Philo-Investigist, Thomas Mitchell, as the first Master of the school (whose site has been adjacent to the Additional Burial Ground since 1862).
---
Tom Sneddon - Rough Sleeper
He said at some stage he'd lived here for 17 years. So he must have come in the early '80s. He was a Glaswegian so presumably he'd left all his family in Glasgow. Yes he slept in the Columbarium which is a nice little building with walls it had a roof. It was open down the side. He always had lots of bed clothes, layers of cardboard they all sleep on to keep themselves warm. But he was very proprietorial about it. He had his radio and he played it very loudly at night so the neighbours in Prospect Place bought him headphones so that he could do it without disturbing them. He loved the church. He spent a lot of his days in the church. Obviously it was warmer. When he was very drunk he could sleep on a pew. When we had something stolen and the vicar asked if he seen anything, he said no but he'd kill anybody he saw stealing anything. He was very much a member. He never came to services but he was very much part of the church community.
Um he'd probably sleep much of the day and go out at night because he'd drink around all the pubs in the neighbourhood at night then come back in the early hours of the morning. And then sleep as long ' you know. If we were having an interment up there we used to go up half an hour earlier and wake him and ask him to me. He was always very good about it he'd always move. People gave him food and money which wasn't such a good idea because he drank it all. He obviously watched television in the pubs and could talk about what's happening in the News, football results and all that sort of thing. It wasn't like some of them who were completely out of it.
He had a great friend called Dave and sometimes they used to get a bit rowdy in the church. And there was the odd occasion when I called the Police. But then I realised that as what they wanted because that meant they got a night in the cells and a good meal. So I stopped doing that and dealt with it myself. He sort of looked after Dave. Dave was much worse than he was. He was always drunk and scruffy and had nowhere to go. Whereas Tom would find somewhere to wash and shave. Dave didn't. I think Tom cared for him. After Dave died Tom went downhill quite quickly. He died probably the next year. I think it was not having anybody to care for. It was his birthday and he was obviously very drunk and going back up to the columbarium he fell. And somebody found him in the morning. He died in the churchyard.
Well we had his funeral here in the church and quite a lot of people came from the local pubs and the community. It was quite well attended. Then we put his ashes up there. And we decided the church ought to pay to put up a plaque to him. But when I was talking to the stonemason he said, 'Oh no I knew Tom. I'll pay for that. He did it for nothing.

Speaker:
---
Tooley Familly
Interviewer: There's a lovely yew tree which is conveniently or inconveniently sitting right in front of the stone.
John Sparrow: That is unusual
I: Let me read this.
In ever loving memory of Henry James Tooley (Jim). Born November 19th 1874 and called home July 13th 1894. Known as Jim.
Just tell me a little bit about him. Who was Henry James Tooley?
JS: He was the son of Thomas and Mary. All I know about him he played the fiddle and died at the age of 19. That's all I know about Henry James.
I: There's a lovely inscription underneath. It says:
The banner over me is love. It looks like it's a quote from Kant, the philosopher Kant.
Underneath that we have:
To Mary the beloved wife of Thomas Tooley, called home August 25th 1928 aged 90.
JS That's correct yes.
I: So Mary Tooley, what do you know about Mary?
JS: OK. She was the business brains. She was born in Exton, Somerset. They met at an open air prayer meeting. And my great grandfather passed her the prayer book. They got to know each other. My great grandfather was a very kind hearted person. And every year at the haymaking he didn't like to give men their' he felt sorry for them. And he didn't like to give them their cards. But his wife she came along and shooed them away and'. You know she was more hard headed and business like. So that's what I know about, you know, Mary.

Speaker: John Sparrow, great grandson of Thomas Tooley (1792-1876)
---
Walter Besant - Novelist and Historian

1836-1901
'All Sorts and Conditions of Men' (1882) is the story of two lovers bent on social reform in the East End of London...
"The measure of a man's success must be according to his ability. The advancement he makes from the station in which he was born gives the degree of his success."
Born in Portsmouth in 1836, he was the son of a merchant, and attended school at St Paul's, Southsea, Stockwell Grammar in London, and then King's College, London.
Following a move to Christ's College, Cambridge in 1855, he became a maths teacher in several schools in the UK and the Royal College in Mauritius. Health problems forced him to resign, and he returned to England and settled in London during 1867. From 1868 to 1885 he had the job of Secretary to the Palestine Exploration Fund where he set up a small society for the translation and publication of ancient accounts of pilgrimages to the Holy land.
He produced a series of essays on Early French Poetry, and many books on French culture. In 1871 he began his collaboration with writer James Rice, including the successful novels Ready-Money Mortiboy and Golden Butterfly. Following Rice's death, Besant continued to write and in 1882 'All Sorts and Conditions of Men', the story of two lovers bent on social reform in the East End of London caught the public imagination.
In the book, he had envisaged a palace of delight in the East End devoted to working class recreation with concert halls, reading rooms, picture galleries, an art school, social rooms and frequent fetes and dances. In fact, unbeknown to Besant, there was already a project afloat with the legacy of Barber Beaumont, an insurance magnate, who had founded the New Philosophic Institute in Mile End. Besant's words pricked the conscience of a wider audience, drew in more donations, and influenced the kind of facilities the new People's Palace was to offer. With its great hall, mighty organ, swimming pool, glass-covered winter garden, it would become very like the 'Palace of Delights' into which Besant's heroine pours her large fortune. In 1887, thousands of people gathered in Mile End to witness Queen Victoria open 'The People's Palace'
26,000 people visited it on a single Bank Holiday in 1888, and one and a half million people visited it in its first year. The library, administered by women only and open even on Sundays, was visited by about 1,000 people a day, and in 1889, Besant's friend Wilkie Collins bequeathed 250,000 books to its library. The Palace remained a vibrant cultural centre until it was destroyed by fire in 1931.
In addition to his fiction, Besant wrote many key studies on the history and topography of London. He the treasurer of the Atlantic Union, an association which sought to improve social relations between Britons and Americans, and he was a prime mover in the establishment of the Society of Authors. In 1895, Besant was knighted for his charitable work.
His sister-in-law, activist Annie Besant, is best remembered for her role in the 1888 London Matchgirls' Strike. Walter Besant died at his home in Frognal End in 1901.
---
William Hart & Robert Carey - Merchant
Died 1717 (Hart) 1681-1751 (Carey)
What we know about William Hart who died in 1717 is from the inscription on this tomb. So tombs are really important ways of capturing gen, of capturing people who people were. What monuments are really are pleas for the future to remember them. Everyone's terrified of oblivion, disappearing into death, into darkness. A tomb with its inscription, that's one way of saying, 'Hang on remember me.' Terribly effecting things. They are also very conventional things like clothing. Not everyone when they go out on the street wants to look different. People want to blend in they want to fit in.
Lots and lots of tombs were very conventional things. What's fascinating for us is to spot the ones that are ever so slightly different or making a new statement. So we can actually, once we get the language of tombs, you can see the inferences and subtleties, the sort of messages they were trying to broadcast.
The tomb we're looking at here is of William Hart. He was a Virginia merchant. That means he was trading with the State of Virginia on the eastern seaboard of what became the United States of America. Above all he's bringing back tobacco. But it's quite likely he's involved in the triangular trade, in other words goods out to Africa, slaves across to the West Indies and Virginia too back comes the tobacco. So here he is buried in Hampstead, having made a big stash and he's got accordingly a grand tomb as well. The actual form the tomb takes, it's called a chest tomb because it looks like a chest. And the actual design of it was developed from inside church monuments which were being erected inside churches just before the English Civil War. You see a number of chests that look a bit like this. And the design is taken outside by masons. On the top is what's called a ledger slab. The inscription on it is now gone. That would have been' had lots of messages on. All the wording has perished on top. We can see the lettering on the side. On the south side it says 'Also Miss Amy Carey died August 1756 aged 17, universally lamented.' And that's written on a drapery that's suspended from two cherub's heads which remind us of immortality, of heaven. But below is an extremely sombre skull, a jawless skull popping up from underneath the drapery. There's no getting away from the reality of death about this tomb. That theme is also borne out on the end panels. If you look at either end there are two slightly different reliefs. These are called trophies of death. You are looking at a ribbon suspended from a fictional peg at the top from which hang a skull see from the side, crossbones, a tassel rather prettily decorating the skull, two trumps, those are at the bottom of the relief. Those are the trumps that are going to sound at the Day of Judgement, the Last Judgement. So that's a reminder it isn't about death and decay and disappearing. The dead are going to rise again in the Christian scheme of things. And another reminder of the sheer solemnity of this monument, of the heaviness of death if you will, is that circular motif you can see above the bats wings, those bats wings, about night darkness. Rather depressing emblem. Above it that circle is actually a snake. It's a tail biting snake called an ouroboros. It's a Greek word. And that's an emblem of eternity. So there's a lot of heavy messages being broadcast by this exquisitely carved relief on the side of the tomb

Speaker: Roger Bowdler, Designation Director, English Heritage
---
William Taylor - Page of the bedchamber to King George I & II
1684-1747
Vainly he tried to be buried within the Church...
His crumbling monument is on the south-east exterior wall of Saint John's Church. The full inscription does survive, quoted by local historian John James Park in 1814:
'William Taylor several years one of the pages of the bedchamber to their Majesties King George the First and Second; was always a careful, diligent, and faithful servant. He died the 12th of June 1747, aged 63. By his will he left several annuities and legacies to his relations, servants, and to the poor, and others; and in his lifetime gave fifty pounds towards the rebuilding of this church, and earnestly desired to be interred therein, but after his decease, although the utmost solicitations were made use of by his executors, that favour could not be obtained for his remains'.
One can only wonder why his request was refused. Perhaps he died too soon?
At the time of his death, the new Church was not quite ready and, until it had been consecrated on 8th October 1747, nobody could be buried inside its unhallowed walls.RS: He was managed of the Midland in Manchester as well as other hotels in the group., so his business here day-to-day was very little actually, so it was up to Elizabeth his wife to carry out his orders on a day-to-day basis in the early days, and of course Elizabeth, was expected to work as equally as hard as her husband but for absolutely no remuneration. When he first moved to London he lived in this hotel. It was only later on that he moved to Hampstead. Towle lived there with a massive 20,000 gallon water tank over his head, so he had his own accommodation on the site at the time...they all lived here. Without a doubt he had an amazing influence on the way the Midland Railway business worked.
I: During the years of Towle's service to the Midland and the hotel, do you think Towle would have had any idea that within six years of his death this hotel would be closed?
RS: I think he could by then, after the First World War, the government having realised how important railways were to the infrastructure of the country, they decided to force them to group, to form just these four smaller companies, or more compact companies I should say. Once this happened the writing was on the wall really, because although the company's could afford to support one another, and they did a very good job of it, they didn't have the enormous capital expenditure that was necessary to keep a building like this maintained, and as very little maintenance had been spent on it, and it was actually in a state that needed an awful lot of money spending on it, Towle must have realised that it was not going to happen, and that this place would eventually close. In fact there was murder in the building in 1930 of a local prostitute which sort of signified how far down the scale it had spiralled with the building going downhill, they had to lower prices to keep the clientele coming in, and that's not a good way of going. He would have seen that, and he would have been very much still in contact with the building through his sons who were running it of course, so he would have known what was going on here. It was in 1934, after the LMS had done their calculations on what they had taken in profit from all the hotels, and they realised that this one was actually not doing too well at all. In 1934 the account showed an overall profit of £2,700, whereas the Midland in Manchester had taken over £51,000 so that was significant enough to close the doors here.
Well Willliam Towle was certainly the most significant, and definitely within railway circles, without a doubt, the most important railway hotel manager of all time.
I: But sadly of course, if you mention his name there's not many people who would know Sir William Towle.
RS: No, and when I say 'William Towle' on my tours, people often think I'm saying 'William Tell', you know...you have to be very careful how you pronounce the vowels...
---
William Towle & Elizabeth Towle - Hotel Managers

1849-1929
William Towle came from a family of blacksmiths in Twyford, Derbyshire...
RS: William Towle is actually a remarkable character. Very little is known about his early life. He was born in 1849 in Twyford, Derbyshire and was a son of a big family of blacksmiths. He joined the Midland Railway in the 1860's, he was working as head of refreshments based in Derby, with his wife Elizabeth. They took over management of the Midland Grand Hotel in 1884, after the first manager Robert Etzensberger retired, they were promoted if you like, so they came into to Midland Grand with Elizabeth and his two sons at the time...
I: And at that point, how long had the Midland Grand been running as a hotel, and what kind of hotel was it?
RS: Well this was one of the finest hotels in Britain at the time, having only had one previous manager, Etzensberger, who opened it in May 5th 1873, so it was only 11 years on when Towle moved in, and he took over as head of hotels, plural, and head of refreshments. It wasn't just this hotel that he ran, there were other hotels in the group owned by Midland Railway, and he ran those as well, from this position. He used to travel weekly to every station in the group, not all in one week of course, and he would make sure that standards of refreshments and service were kept up, very military level as well, really high standards of refreshments and hotels.
I: How did this hotel tick at this time, what kind of people stayed here, and what they demanded of a hotel like this when Towle took over...
RS: Well this opened as the second most expensive hotel in London, with the Langham only being 6d a night dearer, and was very modern in the facilities it had here, hydraulic ascending rooms for instance or water driven lifts, electric bells in the rooms, fire proof flooring system, chutes so they could get rid of dirty linen and embers from the fire, modern features like this were in place, but William Towle came in and modernized it more, his first and only addition to the building was the addition of a ballroom built on the second floor, something that the building has been lacking originally.RS: In 1935 the railway decided to close this hotel due to its total dilapidation and that it itself due to a lack of finances because of the grouping forced upon them by the government.
I: A very short life, and of course Towle was dead by then, in Towle's lifetime this hotel was a very significant place?
RS: Oh most definitely. It was used by very significant people too. Some of the famous people who stayed here during Towle's time included luminaries really, but the most important one was most probably Oscar Wilde ' in fact he didn't get to stay here, 'cos Towle threw him out!
I: What for?
RS: He didnt like the shenanigans that went on between Wilde and his then boyfriend 'Bosie' [Lord Alfred Bruce Douglas], and after the trial of Oscar Wilde, they came to this hotel just for an evening to enjoy a meal and stay the night, but Towle having found out that there was a possibility that it was Oscar Wilde in his hotel, burst in upon them and questioned them. Finding out it was Oscar Wilde he asked them to leave the building, it was after that episode that they ended up at the Cadogan, where they got a much better reception and set down to dinner only to be disturbed this time by the police, and on that third occasion Wilde was eventually imprisoned for two years. His incarceration initially took place at Pentonville, which looks down on this building, and eventually in Reading jail, which was built by the architect of this building, George Gilbert Scott. I'm sure Wilde would have seen the irony in that...RS: He was managed of the Midland in Manchester as well as other hotels in the group., so his business here day-to-day was very little actually, so it was up to Elizabeth his wife to carry out his orders on a day-to-day basis in the early days, and of course Elizabeth, was expected to work as equally as hard as her husband but for absolutely no remuneration. When he first moved to London he lived in this hotel. It was only later on that he moved to Hampstead. Towle lived there with a massive 20,000 gallon water tank over his head, so he had his own accommodation on the site at the time...they all lived here. Without a doubt he had an amazing influence on the way the Midland Railway business worked.
I: During the years of Towle's service to the Midland and the hotel, do you think Towle would have had any idea that within six years of his death this hotel would be closed?
RS: I think he could by then, after the First World War, the government having realised how important railways were to the infrastructure of the country, they decided to force them to group, to form just these four smaller companies, or more compact companies I should say. Once this happened the writing was on the wall really, because although the company's could afford to support one another, and they did a very good job of it, they didn't have the enormous capital expenditure that was necessary to keep a building like this maintained, and as very little maintenance had been spent on it, and it was actually in a state that needed an awful lot of money spending on it, Towle must have realised that it was not going to happen, and that this place would eventually close. In fact there was murder in the building in 1930 of a local prostitute which sort of signified how far down the scale it had spiralled with the building going downhill, they had to lower prices to keep the clientele coming in, and that's not a good way of going. He would have seen that, and he would have been very much still in contact with the building through his sons who were running it of course, so he would have known what was going on here. It was in 1934, after the LMS had done their calculations on what they had taken in profit from all the hotels, and they realised that this one was actually not doing too well at all. In 1934 the account showed an overall profit of £2,700, whereas the Midland in Manchester had taken over £51,000 so that was significant enough to close the doors here.
Well Willliam Towle was certainly the most significant, and definitely within railway circles, without a doubt, the most important railway hotel manager of all time.
I: But sadly of course, if you mention his name there's not many people who would know Sir William Towle.
RS: No, and when I say 'William Towle' on my tours, people often think I'm saying 'William Tell', you know...you have to be very careful how you pronounce the vowels...

Speaker: